Posted by Jack Daniel (Edited by Jay Dreadhead) on 13th Aug 2015
The market for functional glass art is at an all-time high right now, and continues on the rise. Just like in any marketplace, there will be buyers who are true connoisseurs – those who appreciate the hours upon hours of fine and wholly unique craftsmanship that goes into a piece of glass that might fetch four or five figures to the right retail customer.
Here at The Dab Lab, we definitely can relate…we love our heady rigs too! Looking at the market more broadly, there will be many buyers who certainly appreciate quality, and recognize the importance of supporting American glassblowers and companies, but who find themselves on a tighter glass budget. Seeking bang for their buck, they know that they can find themselves great deals from places like The Dab Lab on flawless pipes, rigs, and tubes from artists and shops that they know and love, for prices that won't break the bank.
Now that's where the line needs to be drawn, but unfortunately too often it is not. Saving money is great, that's no secret. That's why we try to keep you laced up with hot promotions and coupon codes as often as possible here at The Dab Lab. But a disturbing trend in the glass market has surfaced with "deals" that seem too good to be true because of course, they are quite literally coated in lies.
These foreign-based websites act as part swap meet/part junk heap, selling everything from painted eggs, to…well… painted eggs. If you have not already come across these findings on social media yet, prepare to be incredibly disturbed by what you are about to see.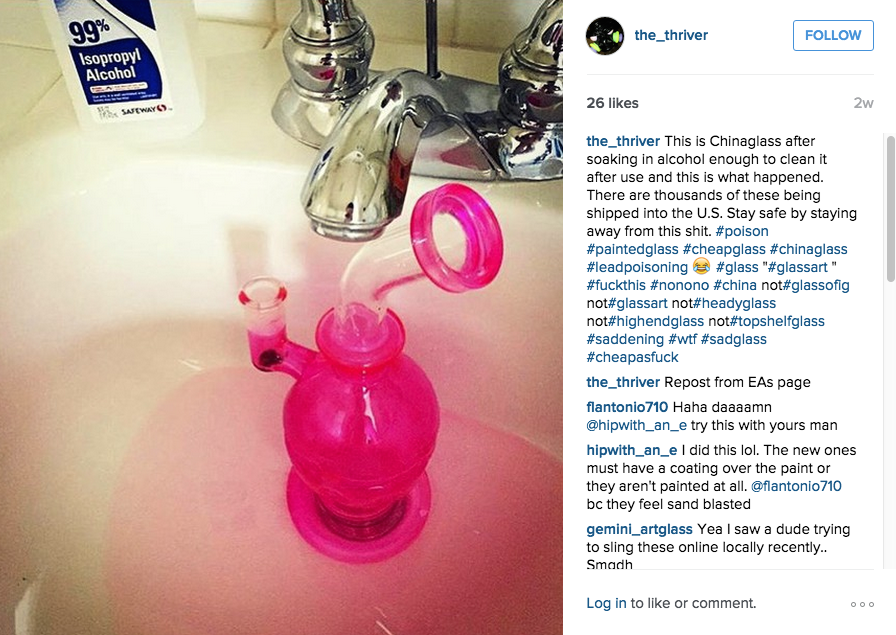 For prices that seem too good to be true (because they are), Chinese sellers are offering extremely vibrant "fab egg" style knockoff Mothership rigs, and for a good part of the Summer in 2015, U.S. customers were buying box-loads of them and flipping them to their friends, and blasting pictures of impossibly bright glass all over the web.
It wasn't long however before seasoned American glass artists and collectors began to call people out on these fluorescent rigs, rightfully claiming that the colors used could not be achieved by honest means. Sure enough, skeptical users began soaking their rigs overnight in 91% iso rubbing alcohol and noticed the color fading, or coming off altogether. Using a stronger mixture, like lacquer thinner, took the color off completely, revealing a textured/pitted surface on the glass underneath.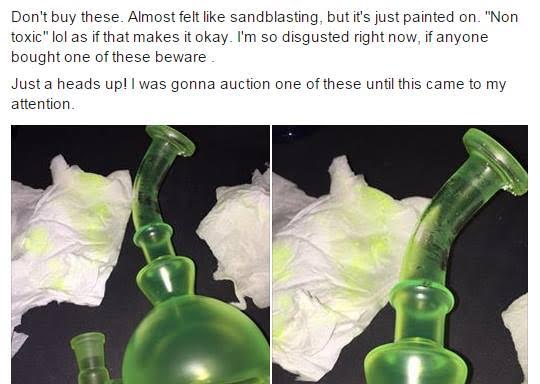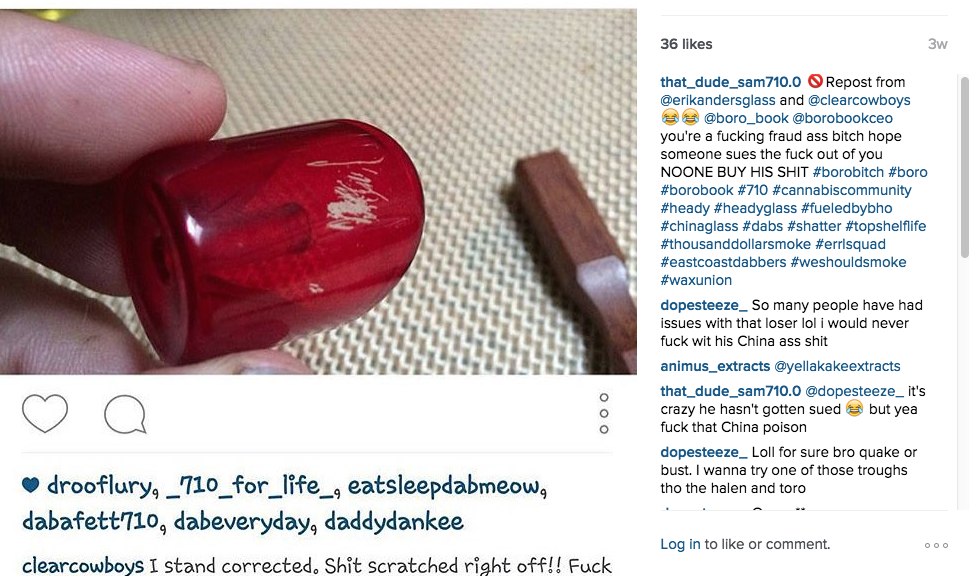 We demand lab tested, safely harvested medication – so who in their right mind would trust their health to a company that would apply such a deceitful and potentially harmful coating to the devices we use to deliver that medication. Though China is by far the biggest offender when it comes to flooding the American market with counterfeit and often dangerous products, India is pumping out its own share of crude knock-offs as well. So really, any imported glass should be avoided at any and all cost.
If you don't want to take it from us, just read these recent reviews taken directly off of the product page of a China based seller.


Another huge reason why it makes sense to buy from American outlets, instead of trying to save cents by supporting foreign ones, is that if you find yourself upset with your purchase for any reason, like the customers shown above, gooooood luck with that "customer service".
Your new rig sits crooked? You get a gulp of water every time you rip it? It broke when you looked at it funny? The "waxy paint like substance" has begun to coat your hands and/or lungs? There's a good chance that you're on your own when dealing with these hucksters.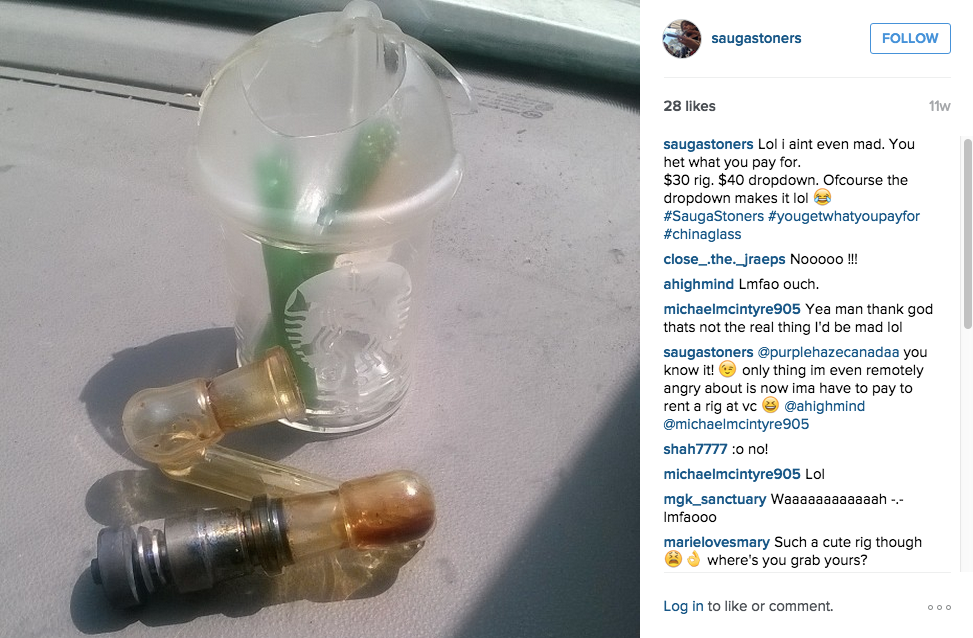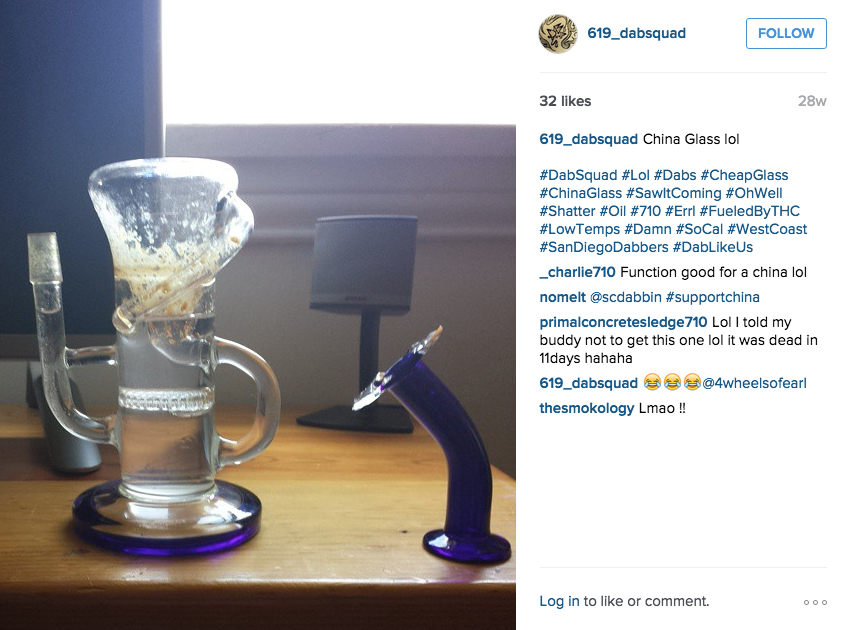 If you are a baller on a budget, it's all good - you are our people! You don't have to settle for cheap import glass that will at the very least get you made fun of by all of your buddies, and at worst could literally be harmful to your health.
Instead, hit us up here at The Dab Lab, tell us what you are looking to spend and what you are looking to get – we've got a great track record of matching people up with the perfect glass for their needs and we are ready to help you too.