Posted by Jay Dreadhead on 20th May 2015
Best Cheap Dab Rig - Top 5
If you're looking for the best cheap dab rigs, then you've come to the right place! Of course everyone would love top of the line dab gear with double thick glass, fancy percs, and pretty colors, but the reality is not all of us can afford that. The good news is these days the very best cheap dab rigs are comparable to some of the same designs that are often twice the price. We've picked our top five favorite ones for you to choose from.
1. Grav Labs Honeycomb Dab Rig - $70.00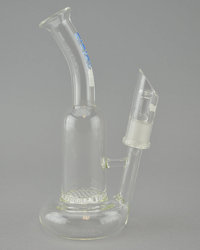 Highlights: This is one of the cheapest dab rigs on our website! The honeycomb perc stacks lots of diffusion bubbles making this a great bang for your buck. It even comes equipped with a quartz nail & dome so it's ready to be used right out of the box!
2. Crush Beehive Dab Rig - $80.00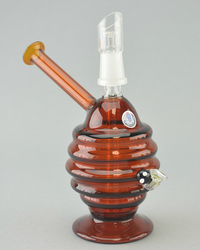 Highlights: A sculpted rig for only $80?!?! This rig is made to look like a beehive. It's just waiting for you to fill it up with "honey"! It even has a little glass bee welded to the side to keep you company. This piece has single hole diffusion. Flavor savor!
3. Silika Combo Bubbler Set – $90.00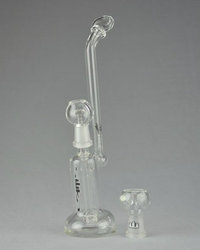 Highlights: This one comes equipped with both a dome and a slide. 2 for the price of one! If you want the convenience of one rig for both oils and flowers and love the classic Sherlock bubbler shaping, then this is the one for you! The 4-slit showerhead will deliver smooth tasty tokes.
4. Custom Creations Showercap Bubbler Rig - $120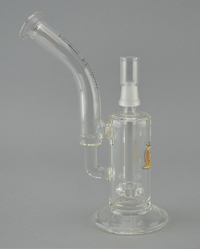 Highlights: This piece is scientific blown using a lathe. It's larger and a bit more "perfect" than the others. Super clean welds and thick glass. The large flared base is super sturdy, so it'll be hard to tip this one over if you're a bit clumsy. The 14-Slit Showerhead fills the can with diffusion bubbles! This is a premium dab rig for a very low price.
5. Grav Labs Double Chamber Dab Rig - $130.00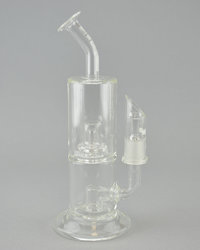 Highlights: This dab rig has double chambers, one stacked on top of the other! This rig is small, compact, and great for traveling, but still offers a lot of diffusion. The showerhead percs fill both chambers with diffusion bubbles very nicely, delivering smooth clouds of vapor.