Posted by Jack Daniel (Edited by Jay Dreadhead) on 7th Jan 2017
2016 was a wild year for sure and maybe you made some questionable choices, but if you've been looking for highly functional new dab rigs for sale, this Top 5 list is sure to help you end the year on a good decision.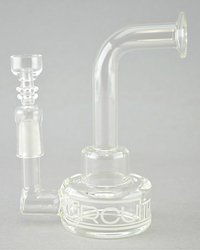 1. GRAV LABS - CIRCUIT DAB RIG W/ 14MM DOMELESS QUARTZ NAIL - $70.00

This compact little heater from Grav Labs stands at right around 5" tall, making it a perfect flavor saver for a sit down sesh and/or a great travel piece. The Exo Turbine percolator creates a cool whirlpool effect in the chamber for unique and functional diffusion. This rig features a 14mm male joint and comes equipped with a 14mm female quartz nail – all for the low price of just $70.00!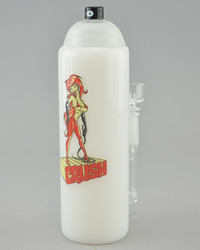 2. CRUSH - SPRAY PAINT CAN RIG W/ INLINE, 14MM JOINT & DOMELESS QUARTZ NAIL - $80.00

Homage to the graffiti writers and street artists out here, this dope spray can rig from Crush is sure to turn some heads when you bust it out. The 14mm male joint leads to a 5-slit inline perc for huge dabs. Priced at just $80.00, which includes a domeless quartz nail, only at TheDabLab.com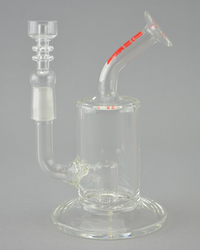 3. GRAV LABS - MINI DAB RIG W/ 14MM DOMELESS QUARTZ NAIL - $90.00

Another of our cheap oil rigs for sale is this scientific masterpiece also from Grav Labs, with a domeless quartz nail included, for The Dab Lab price of $90.00. The simple looking 6-slit perc on this beauty creates a massive bubble stack to smack you in the taste buds with terps.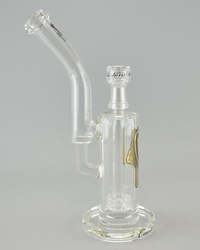 4. CUSTOM CREATIONS - SHOWER CAP BUBBLER W/ 14MM MALE JOINT & SLIDE - $120.00

Standing a bit taller than the rigs listed above, this American made piece from Custom Creations provides a perfect blend of size – tall enough to be a useful tabletop rig, and small enough to pack a punch with flavorful dabs. The shower cap perc functions like a beast and the 14mm male joint gives you some options for cool domeless nails. This rig is a great deal at $120.00 – The Dab Lab is your home for dab rigs for cheap!
5. DITTO - BALL EGG VAPOR RIG W/ 14MM MARTINI SLIDE - $125.00

Check out the insane function you get from the glistening matrix perc combined with the natural swiss perc action from the perforated egg. This scientific rig features a solid flared base for great stability, and a useful 14mm female joint. It comes equipped with a 14mm male martini style slide, but is a perfect to upgrade to a domeless quartz or titanium nail, or an E Nail setup. We've got them in stock now at TheDabLab.com for $125.00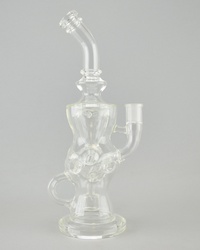 BONUS: DITTO - BALL EGG KLEIN INCYCLER RIG W/ 14MM MARTINI SLIDE - $150.00

Ok ok, yes technically this is a Top 5 List, and technically this is the 6th item on the list, but at just $150.00 this flawlessly functioning Ball Egg Incycler Rig from Ditto Glass is a straight steal. With it's complex design and massive diffusion, this piece is our honorary "Best Bang for your Buck".
As you can see, The Dab Lab is your 1-stop-shop for cheap oil rigs for sale. But as the list above proves, just because you are looking for cheap dab rigs doesn't mean that you have to sacrifice function and quality. Check out all that we have to offer at The Dab Lab.