Posted by Jack Daniel (Edited by Jay Dreadhead) on 24th Dec 2016
When you are shopping at TheDablab.com for glass bongs, you quickly discover that our selection of scientific glass bongs for sale, heady glass bongs for sale, and everything in between, is virtually unrivaled. With so many options, this Glass Bongs Buyer's Guide will help you hone in on the perfect piece for you.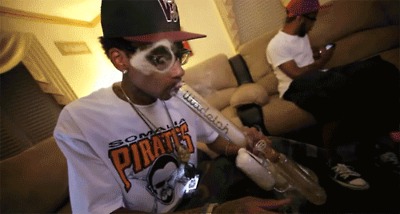 DOWNSTEM
First things first, do you want a removable downstem?
Benefits include being easier to clean and the ability to change it out for a different style, or if it breaks. Downside is…one more moving part that is prone to break. With removable downstems on glass bongs, you pretty much have two options.
The standard these days is a glass on glass fitting, where the contact made between the downstem and the bong itself is, as the name implies, glass touching glass – sometimes with a plastic keck clip or two securing everything together so that it all stays in place when you pull the bowl or slide to clear your hit.
Alternatively, on more "old school" style bongs like a Jerome Baker, you might see a rubber grommet used in the joint as a buffer between the downstem and the bong itself. This is not typically a highly sought after feature, but if the bong you really want has a grommet in the joint, fear not! You still get the same huge rips with a grommet as you do with glass on glass.
Your downstem also provides the diffusion – the bubbles – for your bong. Look for options like # of slits or holes, but you should keep it relatively simple if you are seeking that chugging effect that some people enjoy with bongs.
More recently, direct inject joints have crossed over into the bong builder's world. This gets rid of the traditional downstem, but still allows for a clean glass-on-glass fitting between the bowl/slide and the direct inject joint. These pieces also tend to have more diffusion options, from grids to frits, barrels to tree percs, and so many more. More bubbles usually means a smoother draw so it just depends on that feel you desire while taking the hit.
STYLE
You may have heard or read the terms, "heady" and "scientific" when shopping for glass bongs.
Heady glass bongs are those that have color and/or art worked into them, requiring exceptional talent by the glass artist, and available in endless shapes and themes.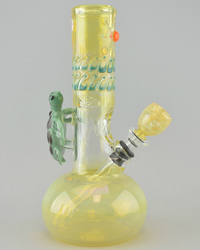 Compare that to a scientific glass bong which is almost always made completely of clear glass, focusing on defined shapes and flawless function. These glass artists are also highly skilled in their craft, which shows in their final products.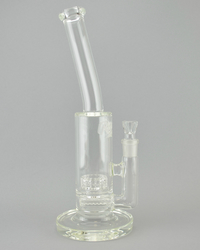 SHAPE
As expressed above, heady glass bongs can take on all sorts of shapes and forms, but for the most part, scientific glass bongs break down into a few well-known shapes.
A straight tube is just what it sounds like – a lathe-produced tube with a mouthpiece on one end, a foot or base on the other end, and a joint/downstem somewhere near the bottom. Big rips and easy to clean.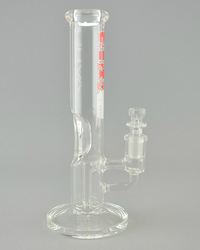 Beaker bongs also have a tube coming down from the mouthpiece, but instead of a solid foot or base being incorporated, the bottom of the tube flares out to provide a stable base, carry more water, and provide a bit more chug.
Similarly, bubble bongs also flare out at the bottom, but into more of a ball shape, flattened on the bottom so it can stand upright safely. More water, MORE CHUG. Can you handle it?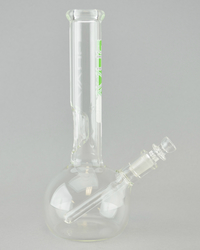 PRICE
Whether you are in the market for the tip top shelf headiest of the heady glass bongs for sale, or the most flawless function that you can only find in scientific glass bongs for sale, or if you are a baller on a budget who found The Dab Lab while searching for cheap glass bongs for sale online – we got you, and you….AND you!
With prices starting at just $50.00 (yeah, that low!), and options at every price point from there on up, you are sure to find the perfect glass bong here at TheDabLab.com