Posted by Jack Daniel (Edited by Jay Dreadhead) on 4th Dec 2016
So, you have made the decision to buy a new piece of heady glass – right on! Once you have your budget in mind, it is time to start shopping around for glass bongs, glass pipes or dab rigs to compliment your lifestyle. At first glance, all of the amazing heady glass for sale at TheDabLab.com can be a bit overwhelming, but options are always good, you just need to narrow them down a bit.
This blog will explore the differences between a Dab Rig and a Glass Bong.
Flower pieces are pieces of glass that are intended to be used to smoke the actual buds and leaves of the cannabis plant, or the "flowers" as they are often called. The simplest flower pieces are dry pieces that require no water in order to function properly. The most common dry flower pieces are spoon pipes and chillums. Just pack the bowl with freshly plucked or ground up cannabis, hit it with a flame, and inhale the good stuff. Just because they are simple doesn't mean that dry flower pieces can't be incredibly heady. Just look at the Liberty Glass selection at The Dab Lab. Renowned glass artist Bard is also killing it with his eyeball series of sherlock and spoons pipes, and we've got styles from Crush Glass for just about any personality.
Where a lot of consumer confusion occurs is in determining the difference between glass bongs and dab rigs.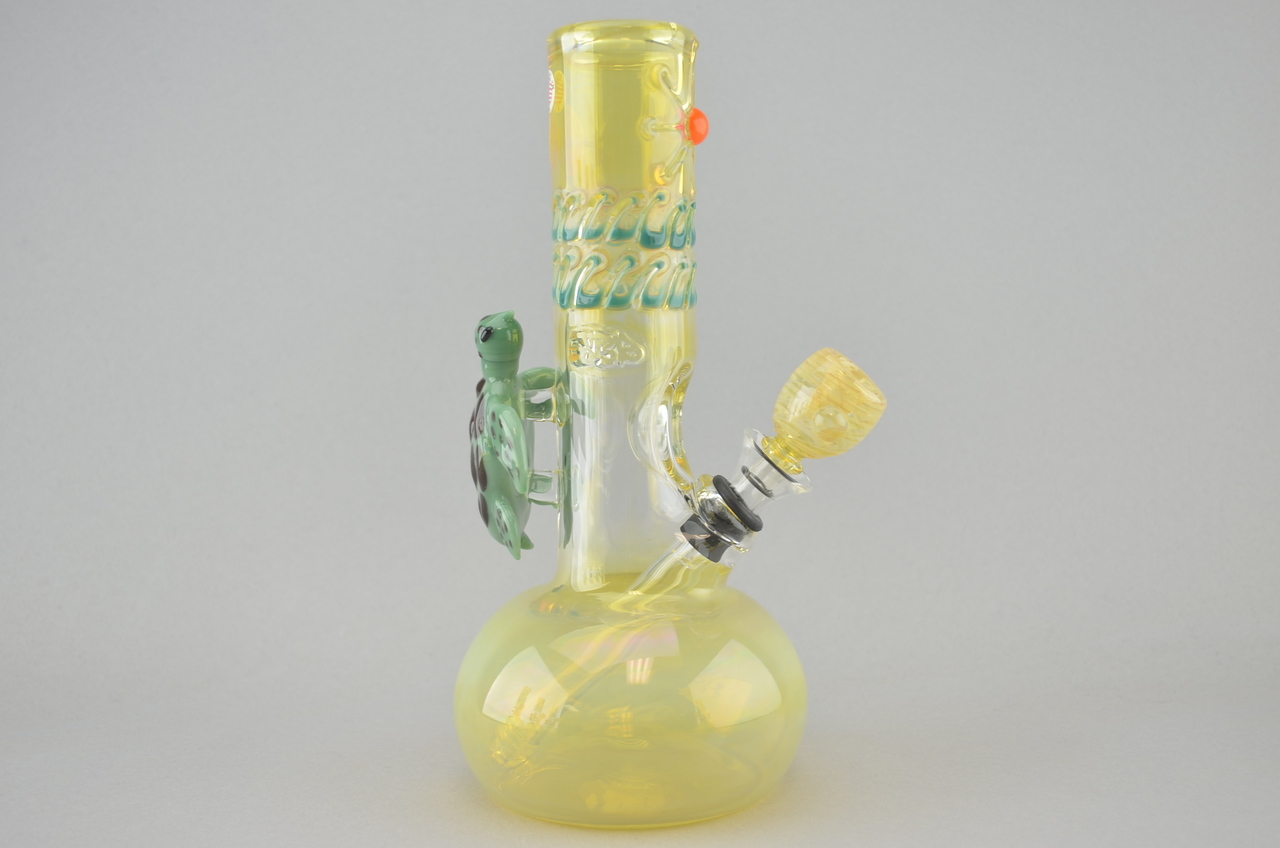 Yes, with the right accessories you can take a dab out of a bong.
Yes, with the right accessories you can smoke flowers out of a dab rig.
Yes, you can dip your fries in mustard too but why man, why?
There are distinct differences between glass bongs intended for smoking flowers, and dab rigs intended for vaporizing concentrates, so you should make sure you get the new piece of glass that will maximize the enjoyment that comes from your preferred method of cannabis use.
SIZE & DIFFUSION MATTERS
While there are always exceptions to any rule, generally glass bongs will be larger in size than the average dab rig. When burning cannabis with an open flame, the smoke produced carries the heat from that flame. The water in the bong cools the smoke a bit, and the smaller bubbles produced from downstem diffusion also act to cool the smoke trapped within them, so that when the "bongload" reaches your mouth and throat, it is at a bearable temperature. Just look at some of the awesome diffusion options from scientific glass companies like Rawlins, Kush Scientific, and Custom Creations, to name a few.
Dab rigs can be smaller, with simpler diffusion/larger bubbles, since the vapors passing through the water are not nearly as hot as combusted cannabis plant matter. Also, this simpler diffusion, and less airspace inside the rig, leads to much more flavorful and effective dabs. Although the bubble patterns may be simpler on dab rigs, there are rigs created in every shape, character, and pop culture reference you can imagine. A bird rig by RJ Glass? Dab lab has it. A South Park character rig by Tammy Baller? Yup, got that too!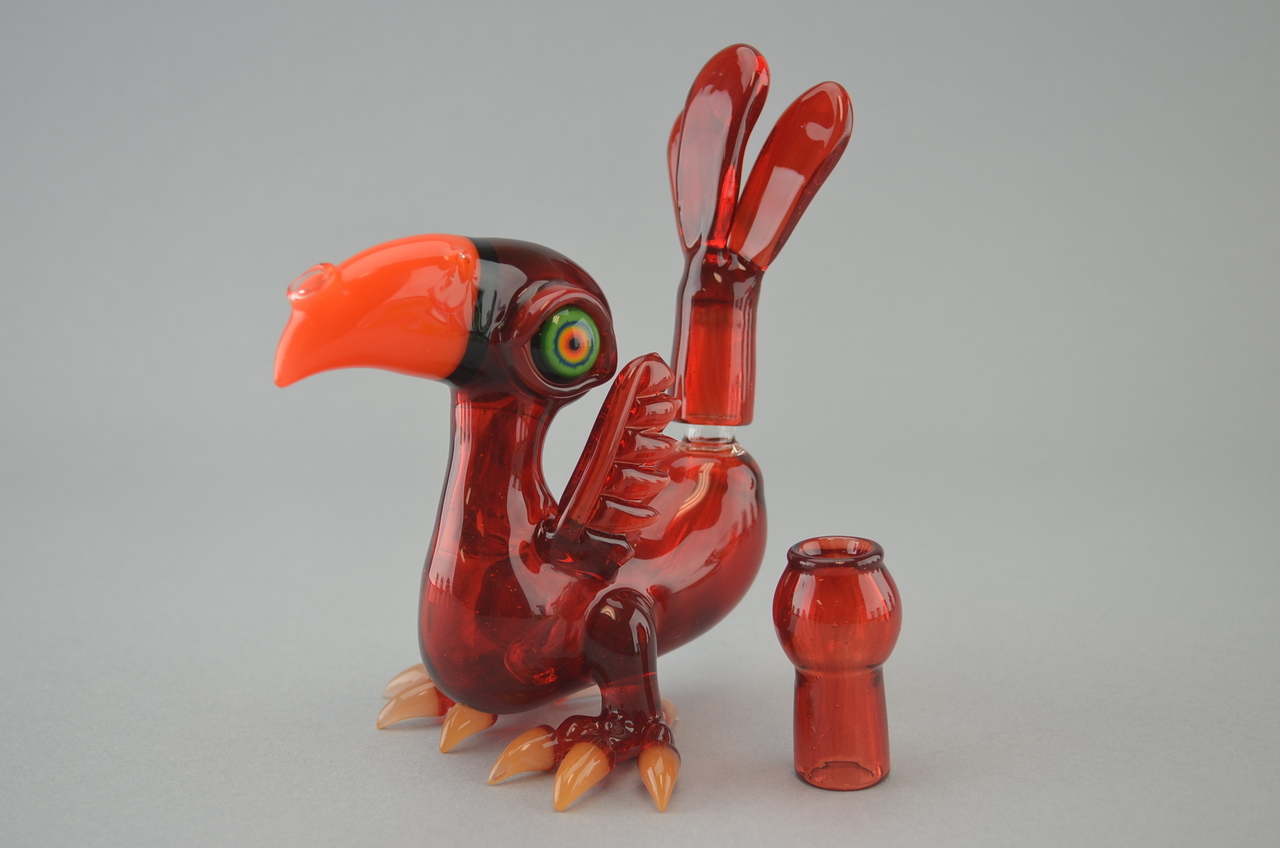 Some glass bongs will feature a removable/replaceable downstem that transfers the smoke from the bowl to the water chamber of the bong. This can be useful if you like to experiment with different diffusion patterns, as you can just change out your downstem between hits if you'd like.
Dab rigs usually have what is called a direct inject airway between the joint and the water chamber of the rig. Functioning the same as a downstem, the direct inject airway is the route that vapor travels to get from the nail head to the rig itself. Since dab residue, or "reclaim", is much easier to clean, the lack of a removable downstem is not a problem whatsoever.
Getting new heady glass is a glorious feeling – make sure you get the glass bong or dab rig that is right for you. Still have questions? Hit us up for more info anytime at TheDabLab,com