Posted by Jack Daniels (Edited by Jay Dreadhead) on 6th Oct 2020
The Dab Temp Tool is Making Torches Cool Again – Here's How They Work
Innovative new electronic devices accurately read and display quartz banger temps
How to achieve maximum flavor and effects from your dabs using a Dab Temp Tool
Which Dab Temp Tool is right for you? Read more to find out…
A majority of the game-changing innovations to hit the dabbing scene in recent years all involve temperature control of some sort.
It was not that long ago that a lot of us were heating titanium dab nails until they were literally red hot and glowing, then dropping a vapor dome over the top and globbing a massive dab of oil onto the searing surface.
While this method certainly produced a lot of potent vapor to be inhaled, we had no idea that we were incinerating many of the active ingredients in our wax and oils before we'd ever enjoy the benefits of them. These active cannabinoids and terpenes are responsible for creating the strain-specific flavor and effects that we all love – and we were nuking them for years!
As we learn more about the boiling points of these crucial constituents, technology has raced to keep up with consumer demands for more temperature control. We saw this kickoff with the rise of the e-nail, or electronic nail, that allows the user to pre-set a desired temperature and the device heats the dabbing surface to that exact temp.
Looking to take that tech on the go, next came the explosion in popularity of handheld, battery-powered all-in-one dabbing devices like the PuffCo Peak.
Still, true connoisseurs will tell you, those two options above may offer convenience, but nothing beats a dab of top-shelf terps off of a fresh, clean quartz banger torch-heated to the perfect temperature.
With so many styles of quartz bangers available these days, with varying thickness and design, trying to find that "perfect temperature" has traditionally involved a mixture of cooking timers and voodoo but once again, technology has stepped up to meet demand and now it is essential to have a Dab Temp Tool in your arsenal.
Although this tech is relatively new to the dabbing scene, we are excited to see companies already taking different approaches about the design and function of their temp-taking devices. Let's take a look at some of the top models and brands:
If you are looking for one dabber to rule them all, turn your eyes onto the Terpometer – a dabber and dab temp tool all in one. This handheld, USB-charged & wireless device features a forked scoop dab tool on one end and a highly accurate temperature gauge on the other. With three simple clicks of the power button, the Terpometer lights up, ready to help you get lit up with the maximum level of flavor and effects from your dabs by giving you a precise readout of the temperature of your dabbing surface. If that's not simple enough, the LED screen flashes to a backlit green color when your nail drops in temp down into the ideal range for true vaporization. Get yourself a Terpometer and your terpenes and taste buds will thank you with every dab!
or those that appreciate the finer things in life, behold the Terp Timer by Octave. This desktop dab nail temperature reader uses similar no-touch tech as the Temper listed above, but the Terp Timer also features an incredibly badass laser sight so that you are absolutely sure you're taking the temperature of the ideal part of your banger. Dab tools with frickin' laser beams!! The sleek aerospace alloy design is aesthetically appealing and standing at just 3.5 inches tall, the Terp Timer will fit unsuspiciously in with all of your latest devices and electronics. Boasting a 10-year manufacturer warranty and an unheard of 2-3 month (!!!) battery life, there is no doubt that this device was built to last, dab after perfectly temp'd dab. Customize your Terp Timer experience by setting your desired temperature into the unit and it will sound a reminder when the time and the temp are ideal.
The Dab Rite is very similar to the Terp Timer with one key difference. The Dab Rite™ utilizes a flexible temperature reading arm allowing for more accurate readings across a variety of heights and angles. Because of thie arm, the Dab Rite isn't as sleek and sexy as the Terp Timer, but if your banger is very high from the surface or sits at an awkward angle it's a necessary trade off. Like the Terp Timer it also has sound notification with the addition of a light notification when you reach the desired temperature.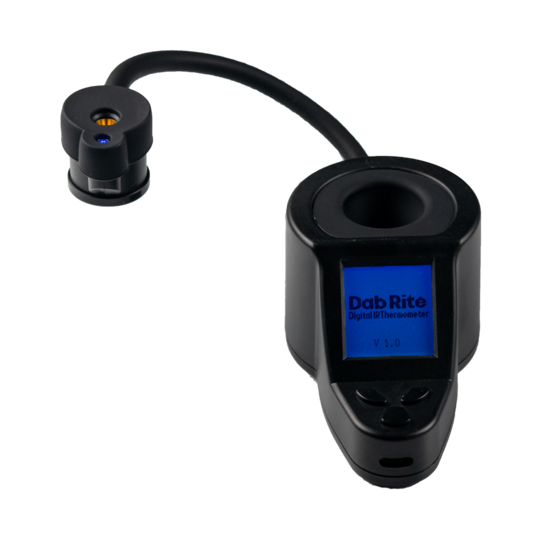 ---
The days of cooked cannabinoids and toasted terps are over! The days of battery dabs or being tied to a wall outlet to sesh are numbered as well. We all know how much a jar of top-shelf quality concentrates or extracts can cost these days – you deserve to dab every penny's worth of wax.
Put the power back in your own hands and let's torch some quartz! Add one of these innovative Dab Temp Tools to the mix and you can do away with timers, guessing games, and wasted wax.
Save money, save time, and save the terps… please save the poor terps… with a new Dab Temp Tool from your friends at The Dab Lab!