Posted by Jack Daniels (Edited by Jay Dreadhead) on 4th Jun 2019
There are levels to the glass game.
For some people, a bong is a bong, just pack it and rip it.
Others recognize the benefits of hand blown borosilicate pieces of functional glass that are easier to clean, more satisfying to use, and often nicer to look at than their entry-level counterparts.
But when you get to the upper levels of glass art appreciation, you quickly realize that it presents a whole new world of techniques and terminology that all lead to endless options for the true connoisseur.
Many of the terms used to describe specific aspects of today's hottest heady glass dab rigs, mini tubes, bubblers, bongs, sherlock pipes and more can be new, confusing, or quite literally foreign to a lot of us so we decided to compile a quick glossary with some shouts out to some of our favorite artists from each category.
After this easy read, you'll be a more well-informed head and you'll find plenty of examples to test your knowledge for sale here at The Dab Lab
BOROSILICATE GLASSBLOWING ART TECHNIQUE GLOSSARY
LATTICINOS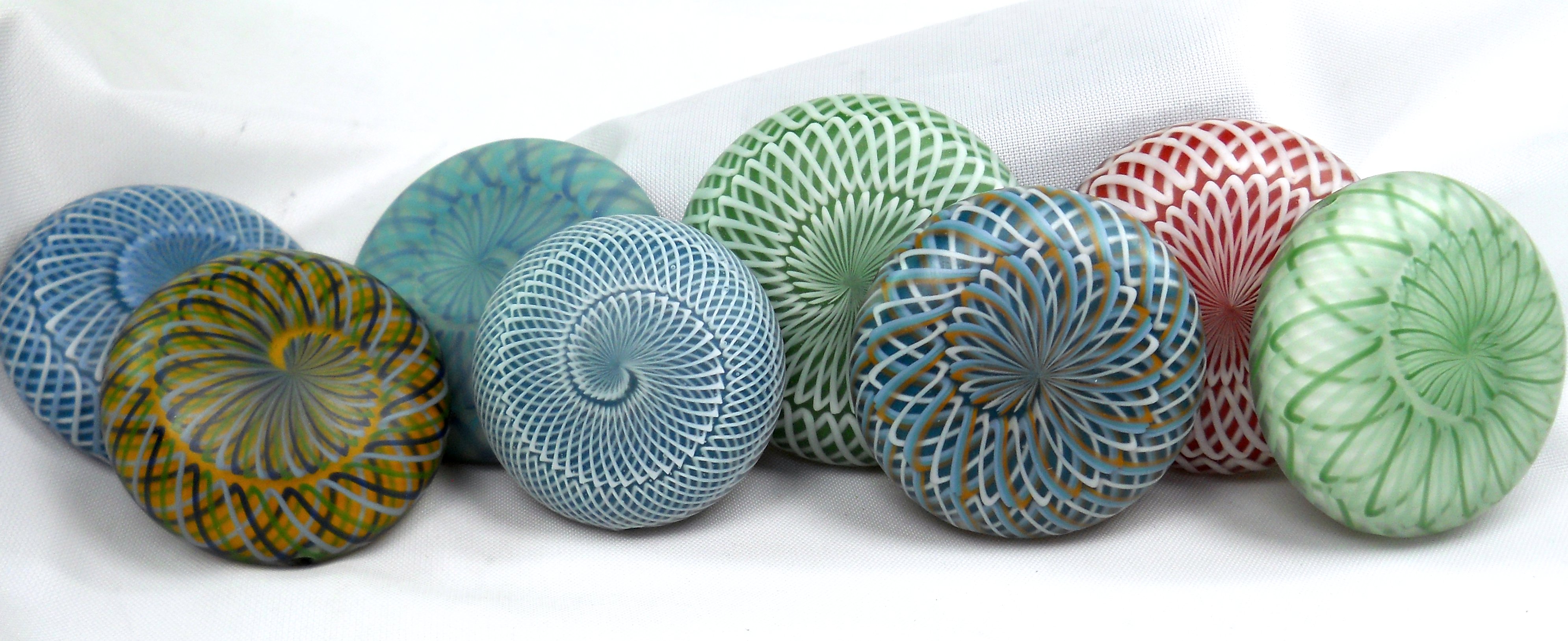 Latticino is an Italian term dating back hundreds of years in reference to a style of glassblowing involving the twisting of a colored rod of glass, but even there the style is more technically referred to as Zanfirico. Here in the U.S., most artists have simplified it to be known as "cane" or "twisties", which is a more literal reference to the technique itself.
By layering patterns of colored glass stringers onto a clear piece of glass, or into a glass tube, artists then heat it all up and begin to twist and stretch it, creating the iconic encased ribbon look found on so many cool pieces of glass art.
For examples of this tech at the highest level, look no further than Colorado-based glassblower Harold Cooney whose exquisite Latticino layering stands as a testament to this time-consuming but utterly satisfying aesthetic style.
THUMBIES / THUMBPRINTS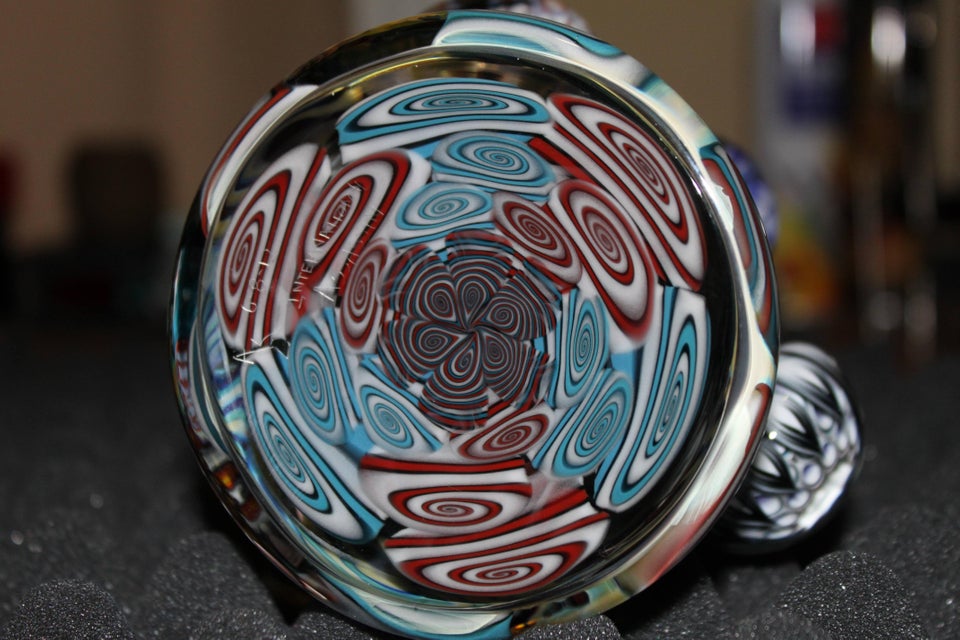 When you take a well-prepped twisty/cane and slowly and precisely press it down inside a blank piece of clear glass, you can end up with a heady looking thumbprint design, also known as a 'Thumbie'.
INSIDE OUT WORK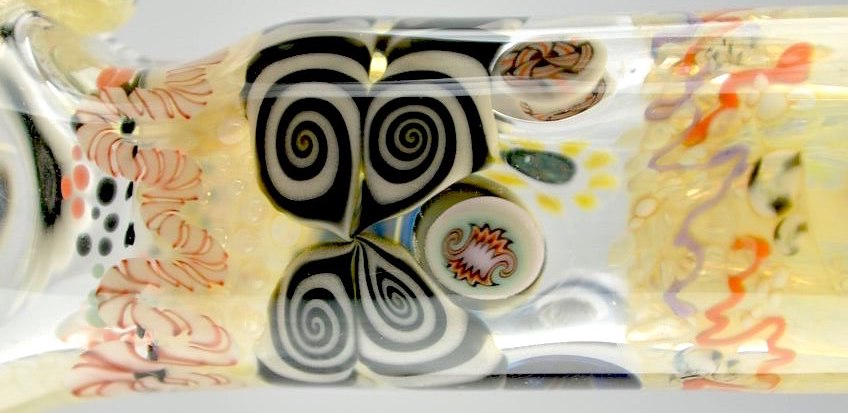 Rather than applying Thumbies, Latticino, or fuming to the outer surface of clear glass tubing, Inside Out (our Double Blown) glass art is created when the artists performs these jaw-dropping techniques encased inside of the clear glass, making a deep, dimensional effect. Perhaps the most well-known artist to incorporate this design style is Arik Krunk (AK), whose pieces are renowned for their chaotic harmony which almost always includes an ample amount of Thumbies and Millies.
MILLIES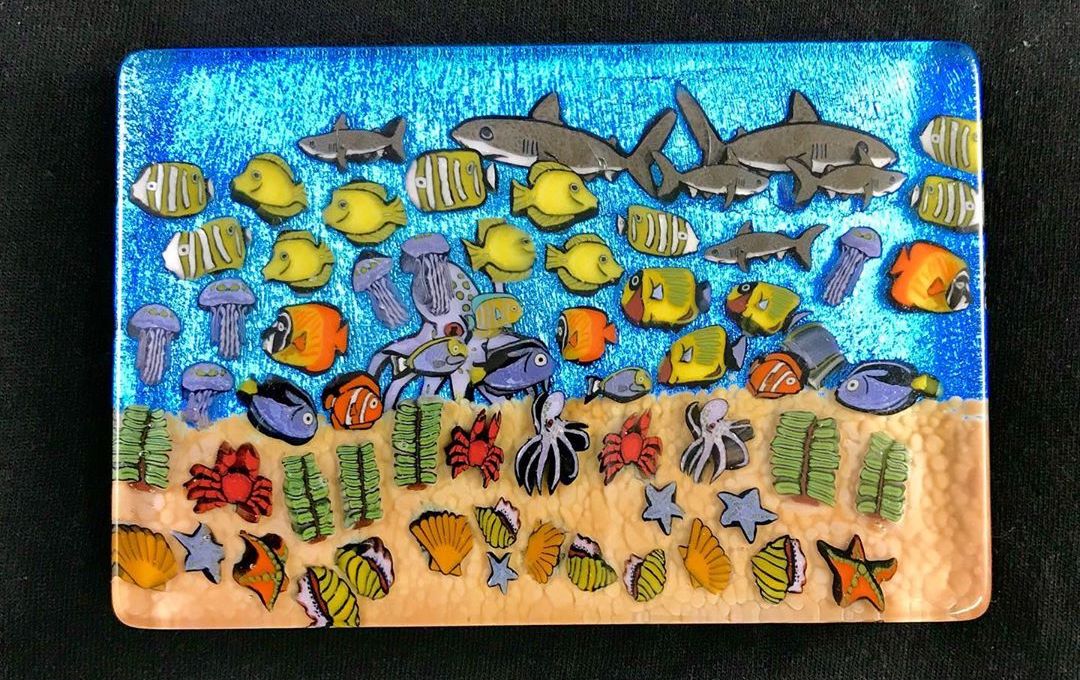 Millies are relatively small, often coin-shaped, pictorial glass discs depicting anything from famous characters, to nature scenes, to anything you or a famed Millie glass artist like Dave Strobel can imagine. Millie is actually short for the Italian term Millefiore. This age old technique involves the puzzle-like stacking of tens, or hundreds, or thousands of colored glass rods of varying diameters which, when combined and viewed face-on, create the desired scene or profile that the artist was aiming for. This bushel of vibrancy is usually encased into a long clear tube. When joined together, slices are taken from the tube to create multiple Millies; glass badges ready to be incorporated into glass art in a variety of ways or even kept as collector's items from rare pulls.
CHIP STACKS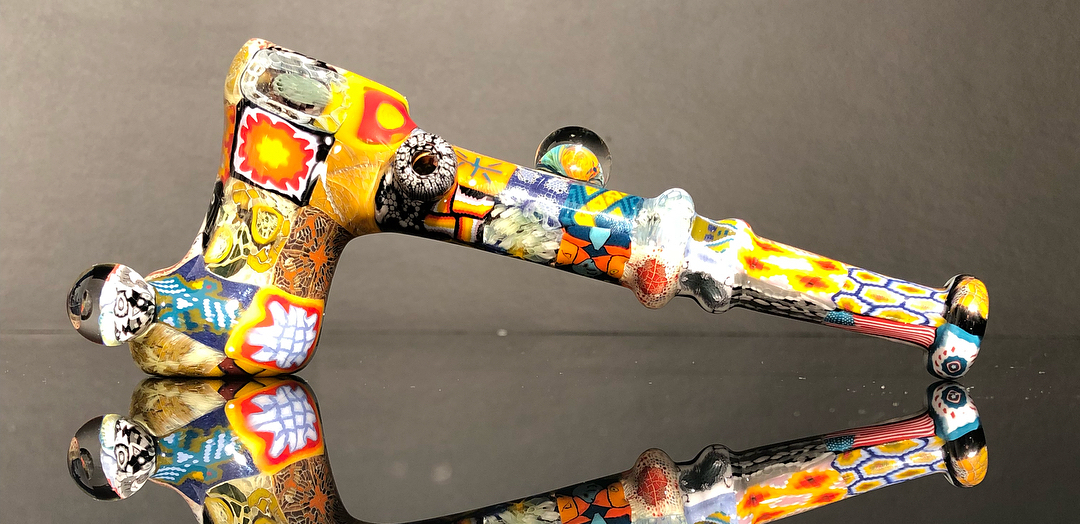 Similar to a Millefiore, a Murrine is a pattern or image designed into a glass cane that gets exposed when the cane is sliced into smaller chips, with each chip displaying an accurate representation of the main design throughout the cane.
When an artist like Cap'n Crunk (not to be confused with Arik Krunk) melds a series of these chips together, it forms a unique mosaic called a Chip Stack that could be made again, but never made again exactly the same.
WEAVES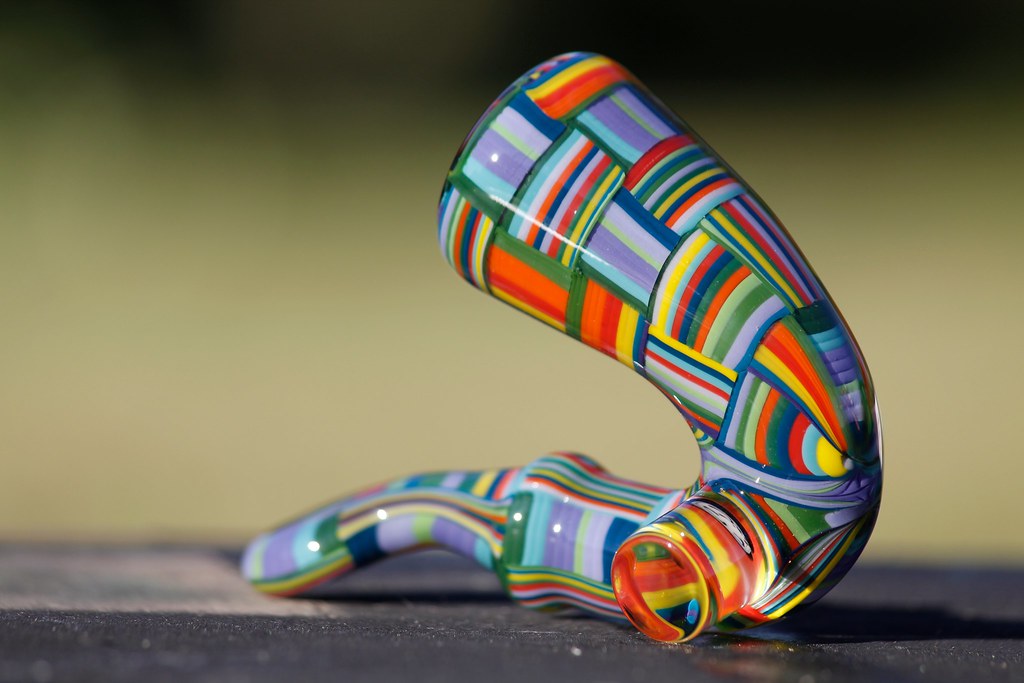 Similar to the Chip Stack, but with the added dimension of weaving longer sections of Murrine chips together in a lattice-like effect, this distinct look has been all but perfected by artists like Cris Carlson whose mind bending work presents an optical illusion that you just can't take your eyes off of.
LINEWORK

Most simply put, Linework refers to a tube of glass that is colored or decorated with lines of color applied from smaller rods of colored glass. Of course, as simple as that definition is, the technique itself can vary from beginning blowers experimenting with shaky hands, to incredibly precise, multilayered, and mesmerizing Wig Wag designs from an artist like Jake C. Jake's swirling, zig-zagging Wig Wags have blown minds for many years with a psychedelic, natural flow that has become a defining feature of truly heady glass.
MULTI-LAYER LINEWORK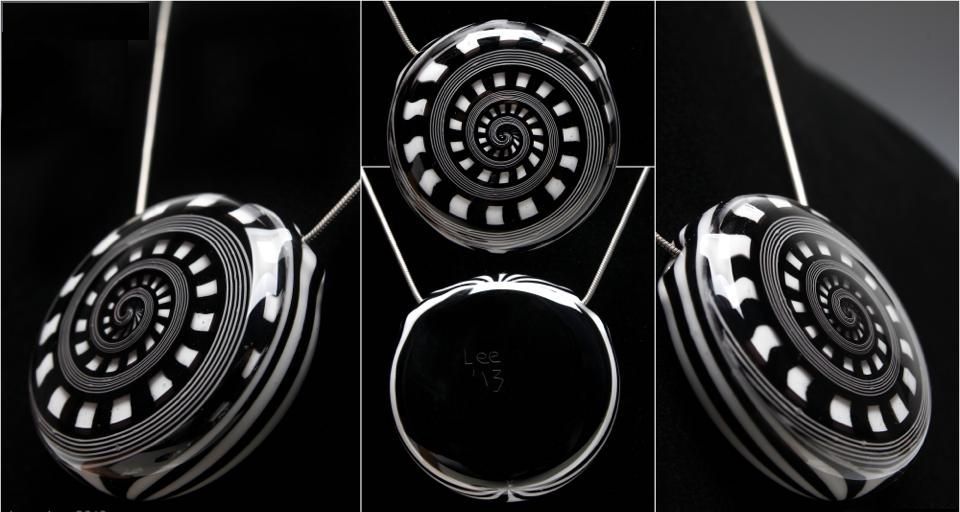 Though many of these techniques date back hundreds, or even thousands of years in some cases, today's glass artists are building on millennia of inspiration and their own long, hard hours of experience to push the medium to new heights.
One such artist is Jason Lee who defined his Double layer Linework to us as, "Separate worked elements laid on top of each other to create depth and contrast." Picture, if you can, intricate line work, encased in dichro, encased with a multilayer Latticino and you begin to realize that, as Jason Lee puts it, "Layering is an endless realm."
RETICELLO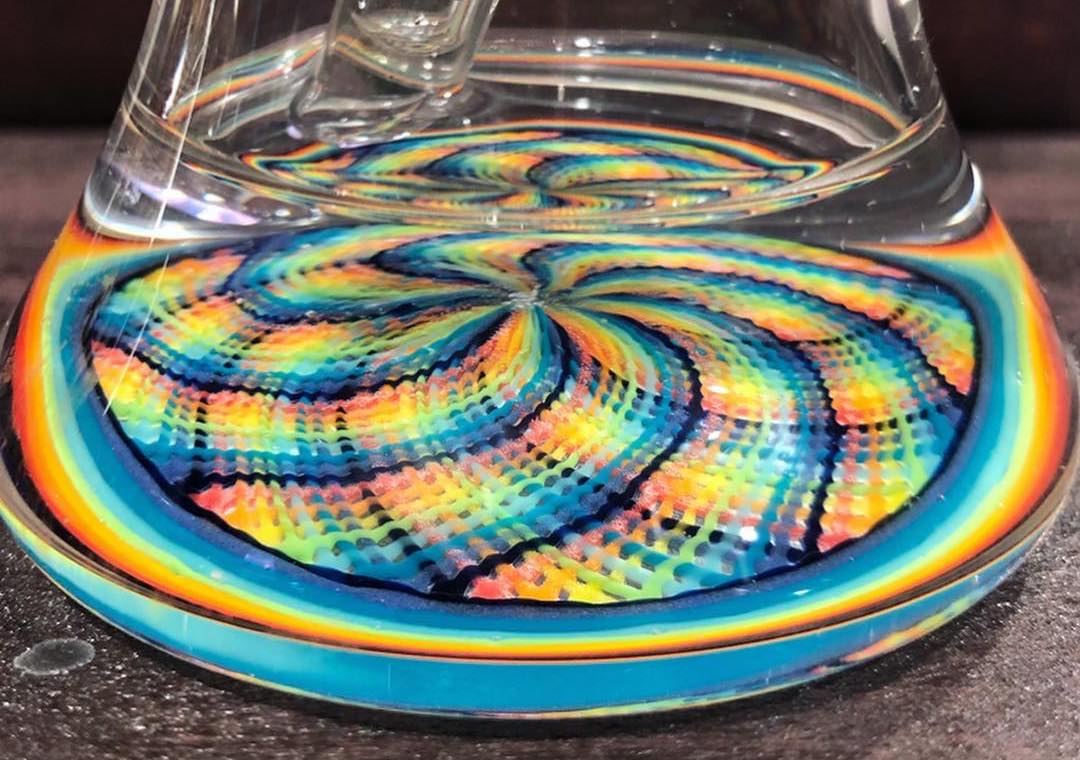 One of the most stunning forms of Linework is the fascinating precision seen in pieces that feature the Retticello glassblowing technique. The artist lays down an even pattern of parallel lines using a stringer or cane of colored glass. That pattern is then given a twist while being heated by the flame of the torch, bending those lines evenly. Then, a second layer of lines are laid down – either with the same, or a contrasting/complimentary colored stringer – in a crosshatch net-like pattern opposite of the first set. Again, heat is applied and a twist is given in the opposite direction creating a symmetrical web design that seems too perfect to be manmade.
Top artists like Devol use this technique on its own or as part of a multilayer effect to either add an eye-catching pop to a clear piece, or to completely envelop an entire heady dab rig or glass bong with this look that is sure to turn heads and spark conversation at any sesh. This technique can also be done with fume (mentioned later in this blog) and is referred to as a Fumicello.
FILLACELLO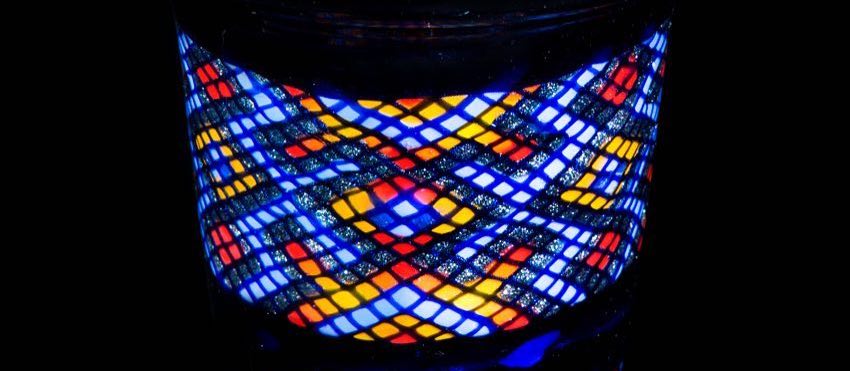 Again, never satisfied, artists like Eusheen and Adam Reetz have upped the ante on this high skilled method and honed their talents on a hybrid tech called Fillacello which fills in the clear gaps with complex geometric color patterns. Reetz has been known to fill some of these gaps with gibson opals! Bling Bling!
DRAWINGS / FLIPS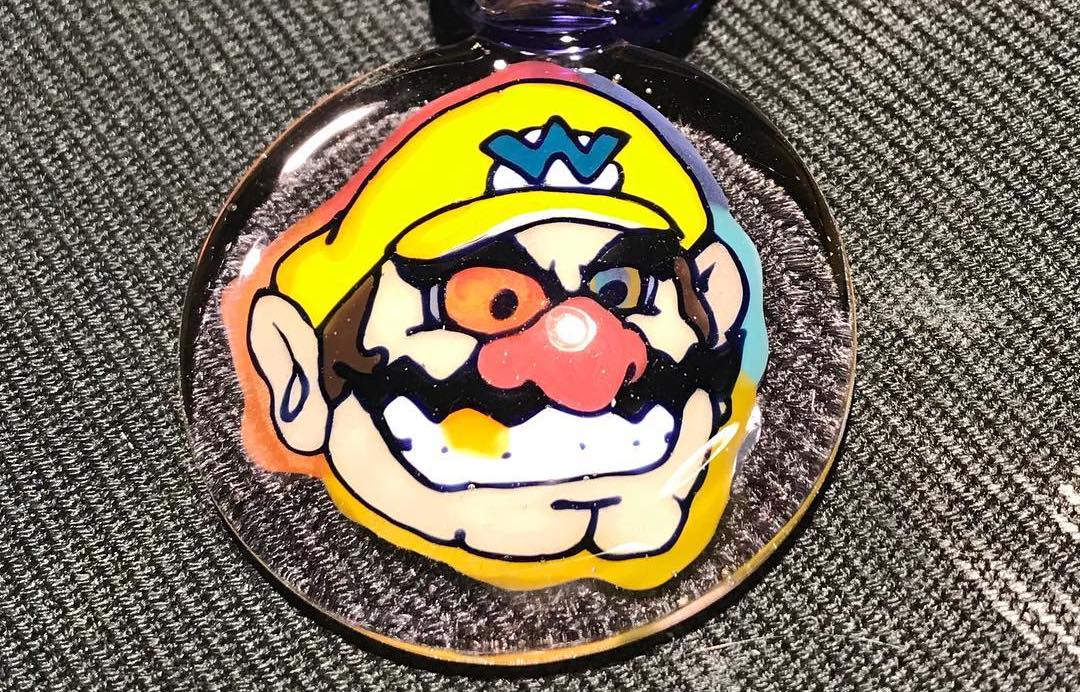 Puntington Rainbow Wig Wag may sound like a mashup of various glassblowing techniques, and it is, but it is also the full title of a legendary glassblower who is more commonly known as another glassblowing term – Punty.
Known as the master of the Disc Flip, or "Cut & Flip", Punty uses stringers of colored rods to essentially draw or paint a picture using a glass "brush", with glass "paint", on a glass "canvas". You can imagine how skilled one needs to be to pull this off at all, let alone with the meticulousness that he is able to do it with.
By opening up an entirely new medium for skilled illustrators, the Disc Flip aspect of glassblowing is also attracting new artists to the craft. Following in Punty's footsteps are up and coming creative artists like Windstar Glass, whose illustrative work can be found right here at The Dab Lab. But instead of applying the glass drawing with intentions of flipping it, she draws them directly on the outside of the glass!
ENCALMO / LIP WRAPS (LIPPIES)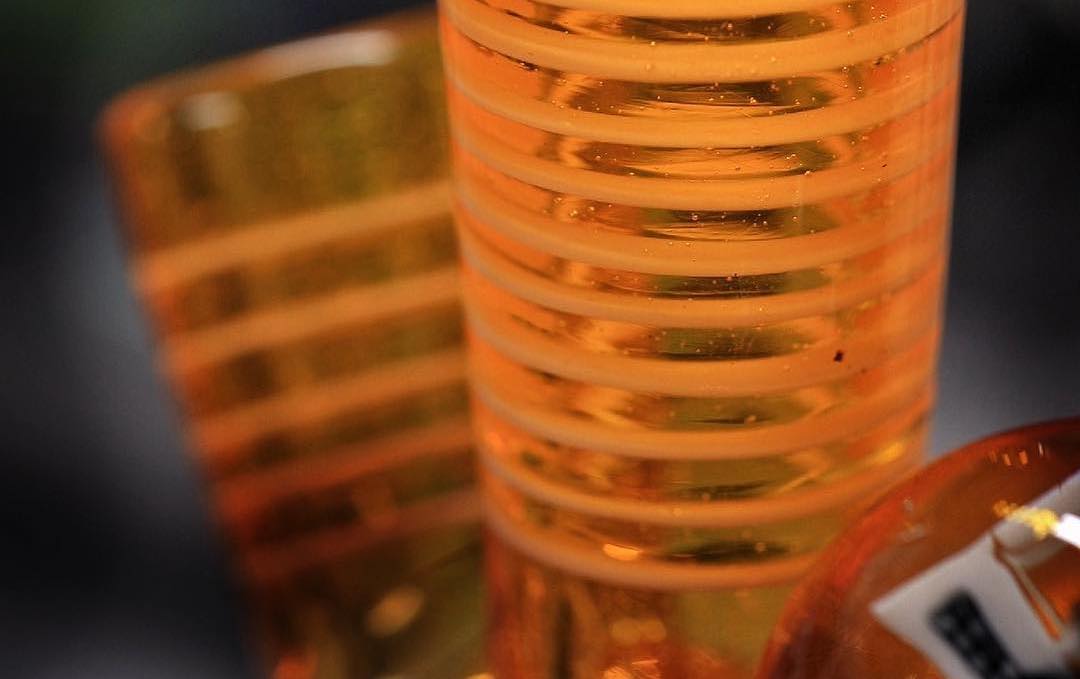 Another old school Venetian glassblowing technique, Encalmo, refers to the careful stacking of varying bands of color which, when done correctly, creates a classy, symmetry-driven, heady appeal.
Perhaps the trickiest part of nailing down this technique is mastering temperature control as each band of colored glass reacts differently to different temps in order to avoid damaging the entire piece. Just as important, looks-wise, is to keep those lines tight and the bands consistently even in thickness.
The word "Incalmo" means "to graft" in Venetian, and that is aproppriate considering the repeated joining of separate bands to create the stacked, even, art deco effect.
This style is demonstrated perfectly in the ongoing work of the Lip Wrap king himself, Vela G, whose flawless Lippies often fetch four figures or more on the glass market.
IMPLOSIONS / COMPRESSIONS

To clear up some confusion in the glass game, technically "compression" and "implosion" refer to the same aesthetic style, they just use slightly different methods to get there.
As one of the craft's most highly respected teachers of the tech, John Kobuki tells his students that an Implosion is made with a tube, and a Compression is made with a rod.
Most commonly used for pendants or marbles, or non-functional add-on décor for a dab rig, bubbler, or bong, the artist will create a flat boro glass "canvas" to work on. They will then apply their preferred style of design to that heated flat surface using colored rods, dichroic material, etc., slowly building layer upon layer.
Once ready, that stacked design is (com)pressed against another heated piece of clear or colored glass for a backing, imploding the design forward into the clear glass it was previously laid upon, encasing the design between the clear front and the color backing.
Once again, this is one of the first techniques tackled by a new glassblower but it takes thousands of hours on the torch to begin to truly unlock the potential greatness that we see from famed artists like Kobuki's incredible floral displays or Gong's iconic Acid Eaters.
DOT TECH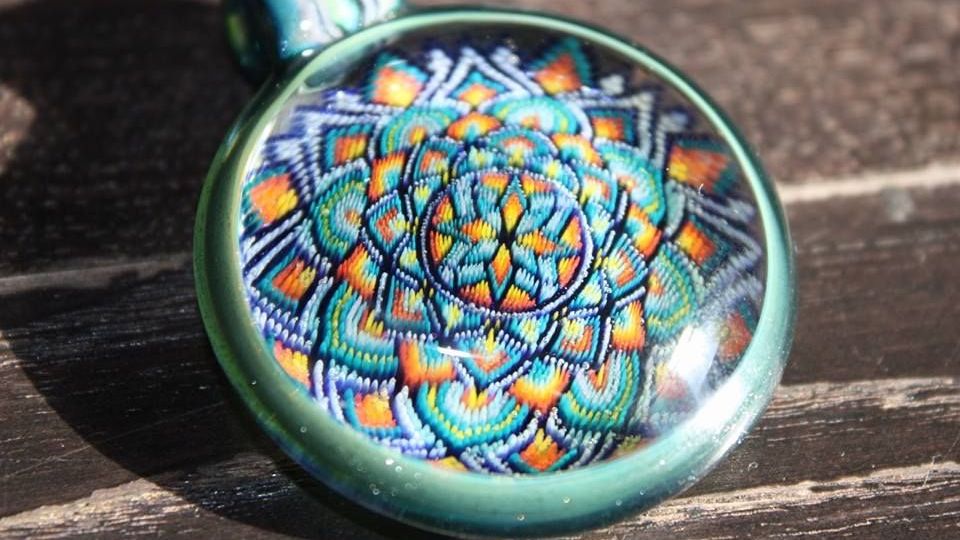 Just when you'd thought you'd seen it all, Junichi Kojima, aka Rose Roads, burst onto the glass scene with his Dot Tech style of glassblowing that took traditional methods of expression to the micro level.

By creating a systematic pattern of hundreds and sometimes thousands of incredibly tiny dabs of colored glass, Kojima demonstrates extreme patience and precision to make stunning geometric patterns and images that give me arthritis just thinking about the process that each piece must undergo.
DOT STACKS

Using a heated, flattened end of a clear or colored tube of boro glass, the artist will use various colored rods of glass to apply globular dots of color to the glass "canvas" they have prepared. Typically, a base layer of one color of dots is applied. Then subsequent layers of different colors of dots are stacked on top of the layer before them. The result is a trippy floral look that is relatively easy to learn, but incredibly hard to perfect.
Designs featuring this tech range from the relatively simple efforts by intrepid glassblowers fine tuning their skills to the multilayered madness seen in the expert work of Kondo Glass and the iconic imagery of Mike Gong's catalog of wearable and collectable glass art.
FUMEWORK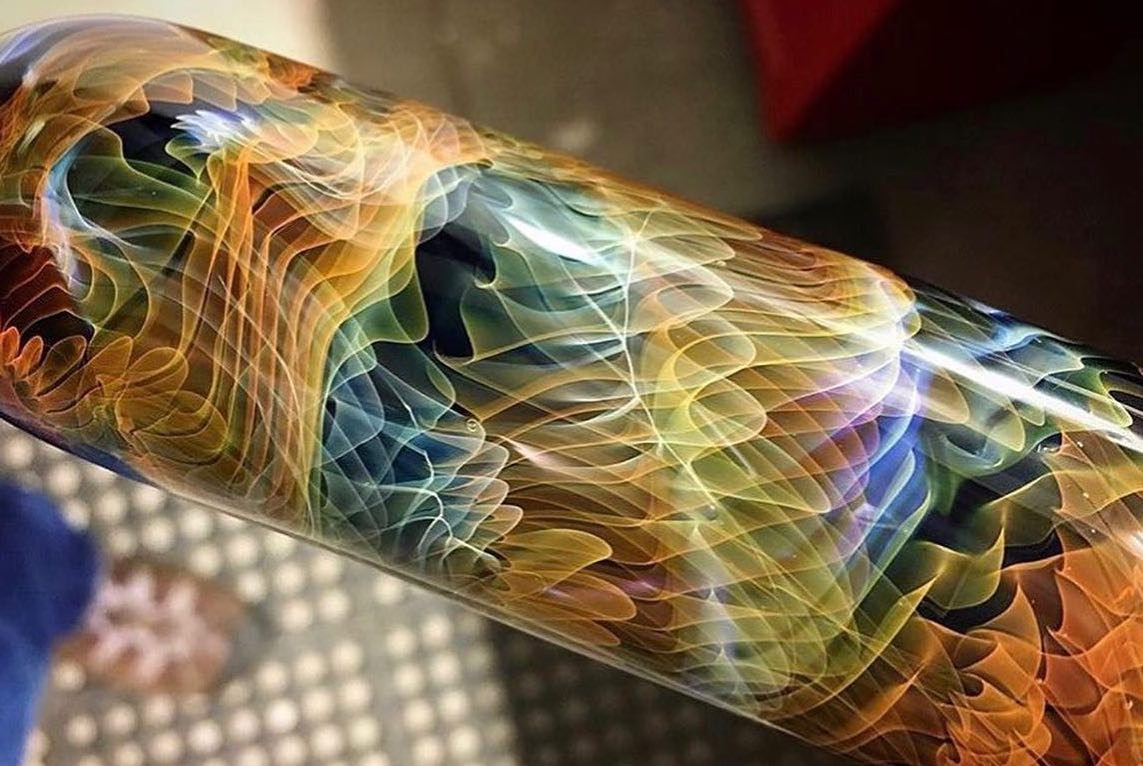 Glass fuming is one of the first techniques taught to an entry-level glassblower, but it is a skill that they will likely use from time to time for the rest of their career behind the torch.
Using an actual nugget of pure silver or gold, the artist will heat up one end of a clear glass rod and then attach the precious metal to the glowing end. With the pipe or tube that they are looking to enhance heated from the flame of the torch, the artist will insert the silver or gold into the flame allowing the vapors coming off of it to envelop the surface of the pipe or tube in their opposite hand.
When the silver is layered evenly underneath some gold, the result is a dope color-changing array of amber, green, and blue hues that have an almost galactic feel to them, regardless of the style of the pipe, bubbler, or bong they are found on.
For more info check out the blog we wrote back in 2017, What is Fumed Glass?, about Bob Snodgrass and how he 'discovered' this fuming tech and how he has inspired so many artists like Lammy, Hefe Glass, and more to find ways to incorporate this timeless technique.
SCULPTING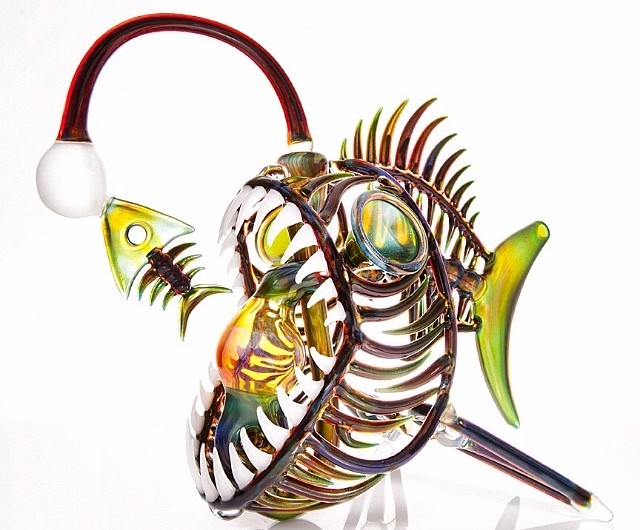 Solid glass sculptures are as difficult and time-consuming to create as they are spectacular to look at. Now consider how much more skill and planning needs to go into making one of these works of art functional in a way that it can deliver terp-filled vapors to your dome when you take a dab from it.
The freedom of artistic flow and creative design that this style allows has led to some of the highest priced pieces of glass art ever made or sold, and played a major role in elevating functional glass from the traditional tubular bong and pipe shapes to anything you can possibly imagine.
One of the undisputed blackbelts of this craft is Buck Glass out of Oregon. His incredibly life (or death) like anatomically accurate sculptures of various skeletal remains would impress any fan of art even if they didn't realize that it was made for more than just looking at.
Inspired by everything from H.R. Giger, to robots, to "wook stuff", Banjo Glass is another highly skilled glass sculptor whose exceptional style has earned him a top shelf reservation in the top glass galleries in the world. His psychedelic tribal warlord motif has fetched five figures more times than we can count and Banjo's finest has flirted with the $100k mark in the past.
Once a new jaw-dropping design is conceived, the prep work and assembly on these pieces is extensive, which is why the finished product can be expensive. Like a ridiculously fragile jigsaw puzzle, each piece must be manipulated into shape with metal and graphite tools in the flame of a torch and then painstakingly assembled, piece by piece, around a functioning dab rig. Buck had a piece of sculpted glass art that he worked on for over eight years!
COLDWORK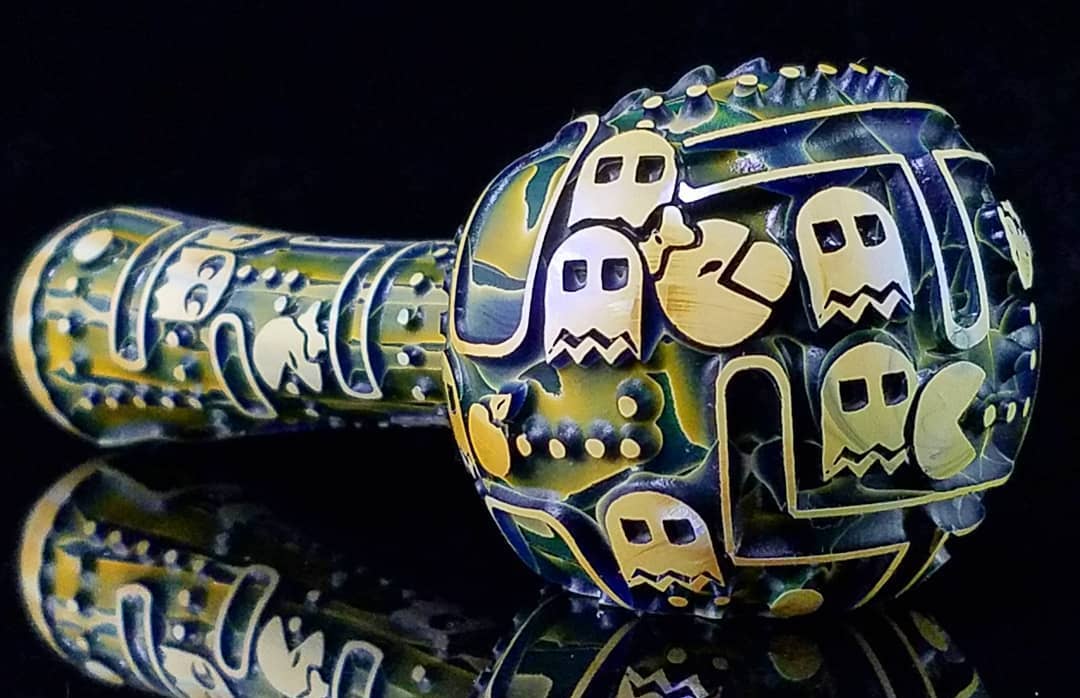 Coldworking borosilicate glass typically breaks down into three distinct post-processing methods that each requires a different set of skills and a different set of tools.
Sandblasting is a technique where abrasive material is forcibly propelled onto a surface (in this case, glass) in order to etch or carve into the material itself. By applying a pre-cut pattern of painter's tape or adhesive vinyl to the glass before blasting it, deeply intricate designs can be achieved as the tape acts as a stencil to transfer the desired design onto (or rather into) the glass.
The heady collection of spoon pipes, onies, and mini tubes from the revered glass shop Liberty Glass that we have available here at The Dab Lab demonstrates just how much detail and creativity this technique allows for.
Carving glass is very similar in many cases to Sandblasting, but can allow for even finer detail and a more layered, dimensional effect. Using a variety of tools like a Dremel, or even hand carving with a blade, artists like Rye Glass add a truly hand-worked element to their collabs and solo pieces that can be felt as clearly as it can be seen.
Faceting is a skill better known for the production of gems than for dab rigs, but this technique adds a unique and classy appeal to any piece utilizing it. By grinding boro glass at precise angles against a spinning, wet, adhesive wheel, mouthpieces for rigs or bongs, handles for slides or bowls, or geometric designed pendants or paperweights can be formed with a multitude of angular faces all providing a magnified window into the piece of glass itself. Like a hall of mirrors, one embedded opal or millie can be reflected seemingly infinitely due to the refraction of the angles created in this process.
Check out Derek from Boro Boy Glass for a perfect example of how faceting certain features of a heady dab rig can make it stand out in a crowded market.
===
Whoa! We went pretty deep there and the crazy part is, we didn't even get to it all!
The glass art scene is bursting with talent as the experienced artists we all love continue to push the boundaries of what we all thought was possible and continue to inspire the new generation of creators to jump on the torch.
It's cool to realize that so much of this tech has existed for hundreds of years, but is being reinvented right before our eyes in just the past couple of decades.
At The Dab Lab you'll always find a heady blend of old school and new as we continue to bring you an unrivaled selection of glass art, hand selected by us and delivered direct to you.