Posted by Jack Daniels (Edited by Jay Dreadhead) on 3rd Jan 2019
It was the mid-1990's. There was no internet or social media, no cell phones or text messages, MTV was still playing music, and cannabis was still highly illegal across America. I will never forget watching an older friend heat up two butter knives on the kitchen stove and press a ball of hash between them to produce a thick cloud of brain numbing vapors.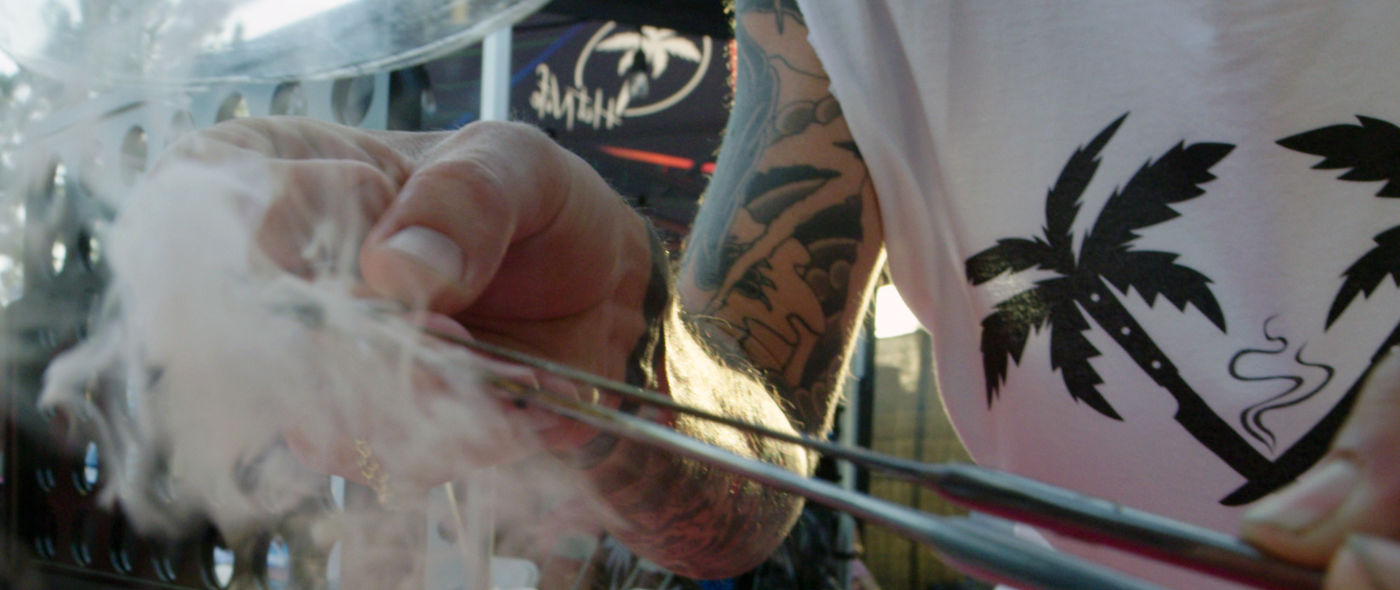 UPDATE: In the late 90's, Silica Alchemy decided to make some glass paddles to replace the outdated metal knives from the silverware drawer. He called them "Hüfers" (word play on Huffer and Hoover). This was the first stepping stone to the "Vapor Swing" (mentioned below).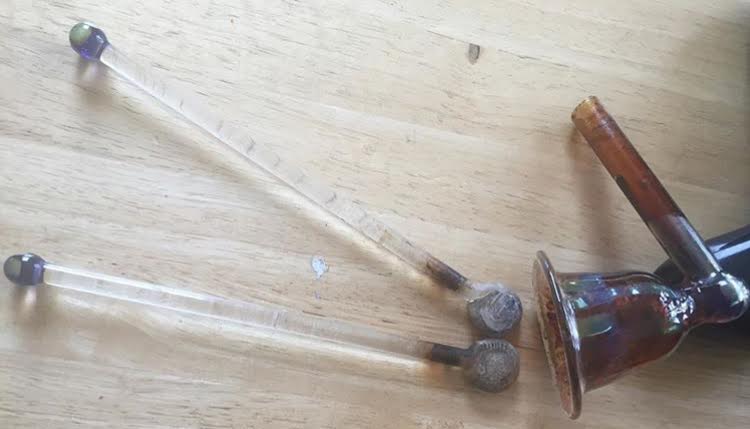 Humans have been making and smoking hash around the globe since at least 100 A.D., and now nearly two full millennia later we are still trying to perfect the method. Although butter knives certainly rocked our world in the 1990's, it wasn't until around 2010 that the game really began to change when it came to dabbing and vaporizing cannabis concentrates.
Simply combusting or burning full melt hash or butane hash oil with a lighter cannot generate enough sustained heat to thoroughly vaporize the hash and maximize its effects. As concentrates have exploded in popularity, so too have unique and innovative tools and techniques to take terp tasting to a whole new level, beginning with the birth of the boro glass male joint.
In 1996, California passed Prop 215 which established the world's first legal major medical marijuana market. Though it took a few years to really get established, the Prop 215 market provided Cali's cannabis users with access to high grades of hash and cannabis oil previously unseen on the streets.
Prices for these products started to rise along with their demand, and so connoisseurs sought more efficient ways to enjoy every last drop of their dab stash.
Forward-thinking glassblowers and other engineering types started wrapping their creative brains around this hot new trend and soon the age old concept of a vase-shaped bong with a grommeted female joint and a simple downstem was out and the endless imagination of dab rig designs featuring a glass on glass male joint took over.
SWING SETS
The first major evolution in dabbing technology came with the glass or titanium skillet and vapor curve.
The most commonly attributed pioneers of this tech whereas HashMasterKut and his sister, and thus, the HMK Vapor Curve and Skillet remain the most often referenced pieces from the era.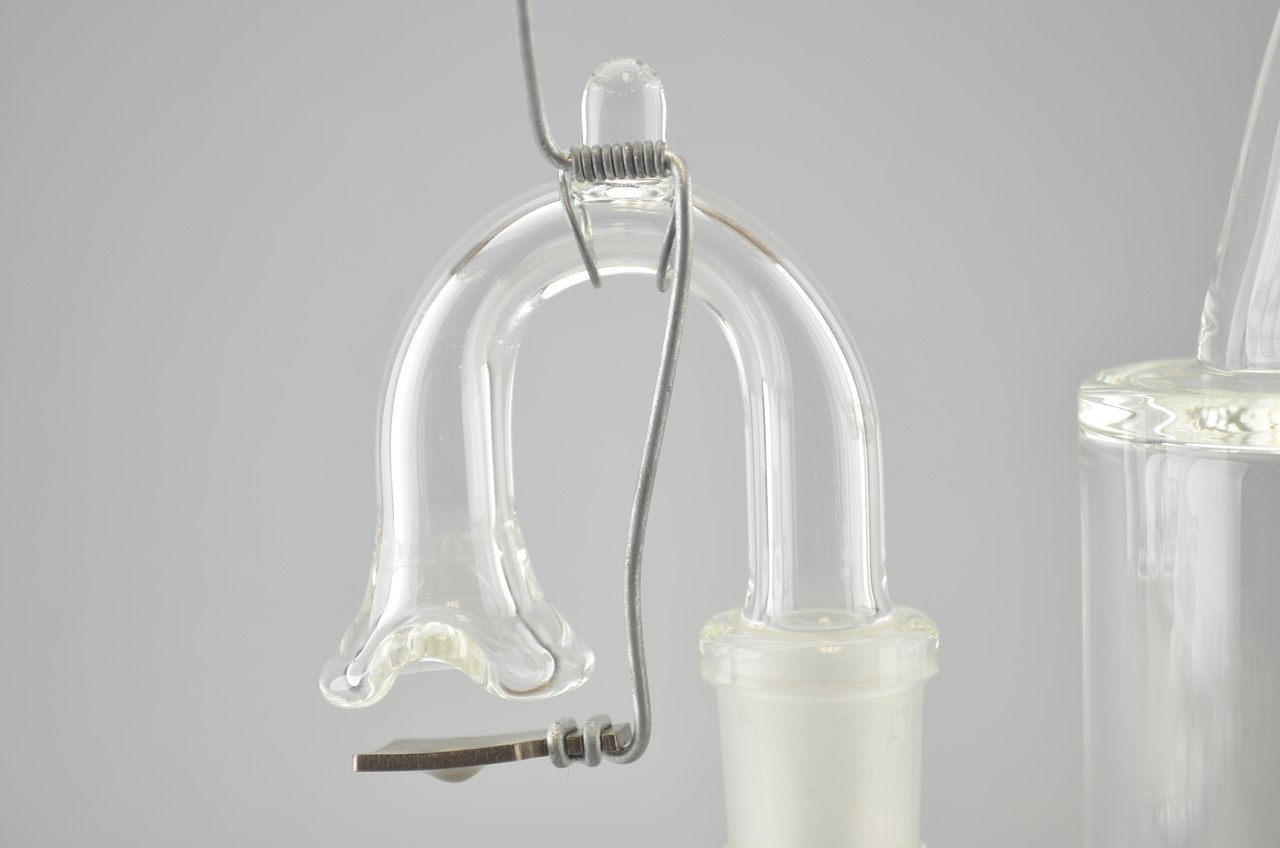 The premise is pretty simple. A glass, or more commonly titanium, skillet or plate is attached to a swing arm. You heat the skillet with your butane torch until it reaches your desired temperature. Then you swing that hot plate back down to the front of the dab rig where it sits directly under the borosilicate vapor curve.
The vapor curve is most often a rounded glass tube with a glass-on-glass female joint on one end, and a flared, bell-shaped opening on the other.
When you apply your concentrate to the heated skillet, the resulting vapors are then drawn up through the bell-like opening above and down into your dab rig on their way to your anxious taste buds.
This process not only did away with the sketchy look of getting high with kitchen knives, it made the entire dabbing process safer and even more sophisticated as glassblowers began to focus as much on form as they did on function.
Additionally, the glass-on-glass female fitting really pushed the glassblowing world to implement male joints into their higher end work for the first time
GETTING DOMED
The vapor curve was innovative, for sure, but it was also bulky and at times cumbersome depending on the style of the rig that it was attached to.
Seeking a more streamlined option, JP Toro of Toro Glass is widely credited for coming up with the traditional dome and dab nail setup that at one point in time dominated the dabbing culture.
Again, the concept isn't quite rocket science, but this evolution in technique was definitely blasting people off.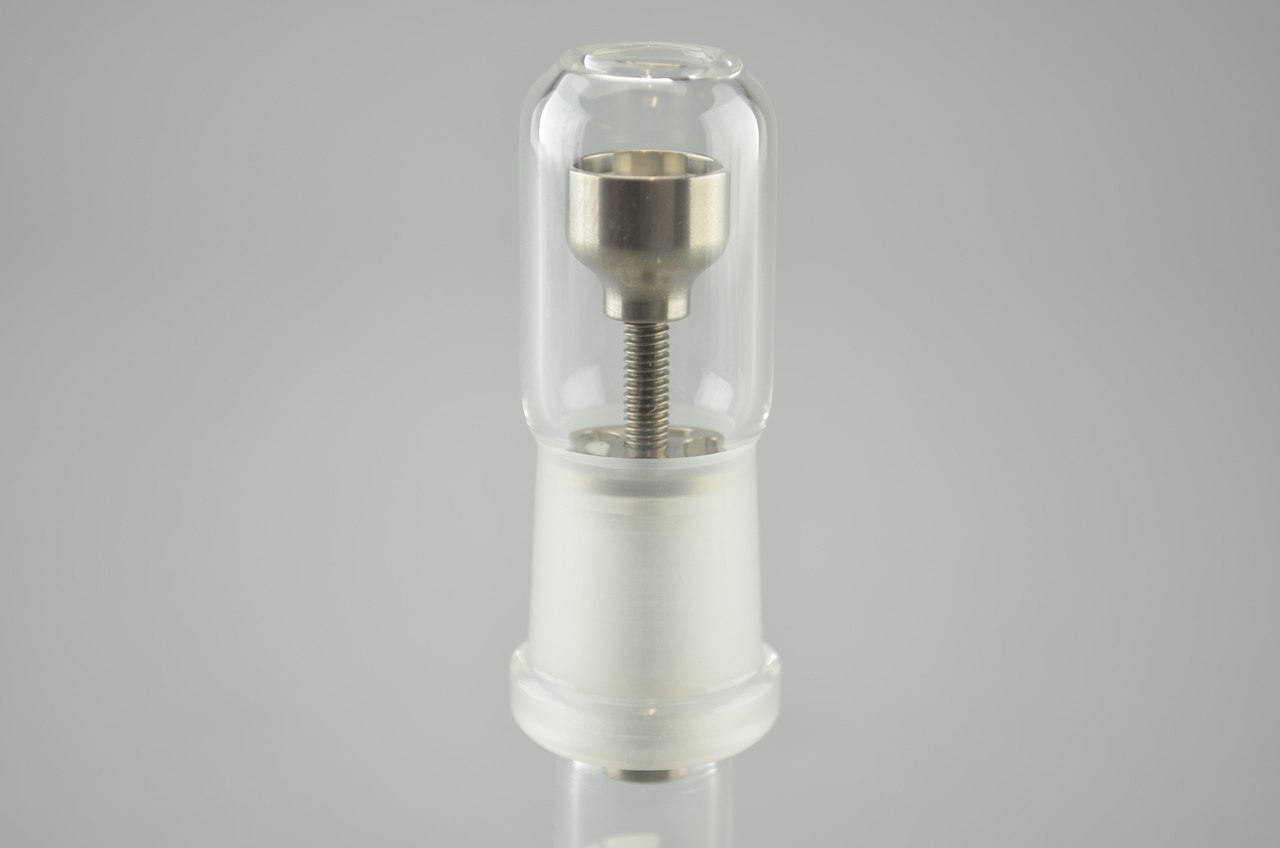 By then, the male joint had really caught on in the world of functional glass art and Toro's new idea became instantly popular as well. Utilizing the male joint on a dab rig, a borosilicate rod with a slightly concave dish on top is inserted. Phalanges on the rod hold the dab "nail" in place on the rim of the male joint.
Then a globe or tube shaped glass dome is placed over the top of the dab nail, sliding down snugly over around the tapered edge of the male joint on the dab rig.
An opening, typically on top of the dome, provides access to the head of the dab nail.
So heat the nail with your butane torch, then place the dome over the top, then apply your dab down through the opening in the dome and onto the warm nail head. The resulting vapors would be contained and condensed by the dome and then drawn down through the male joint and into the dab rig for further percolation and filtration on their way to your brain.
Even safer than the vapor curve and skillet, the dome and nail tech originally hyped by Toro went on to define dabbing for years to come.
Artists incorporated the design of their domes into that of the overall aesthetic of multi-thousand dollar dab rigs. A custom dome was often a conversation starter.
But all good things must come to an end and the days of the dome are definitely numbered, if not gone for good. Some connoisseurs still use them, especially when enjoying an older rig featuring a male joint.
THE TI RENNAISSANCE
Perhaps the most important influence that vapor curves and skillets/swings had on dabbing culture was the introduction of titanium as a more ideal dabbing surface than borosilicate.
Even during the dome days of dabbing, companies like Highly Educated began offering high grade titanium alternatives for dabbing with a male joint.
This upgrade almost certainly extended the window of supremacy for the dome and dab nail tech, but it wasn't long before Task Rok at Highly Educated Titanium changed the game once again with the invention of the female domeless titanium nail.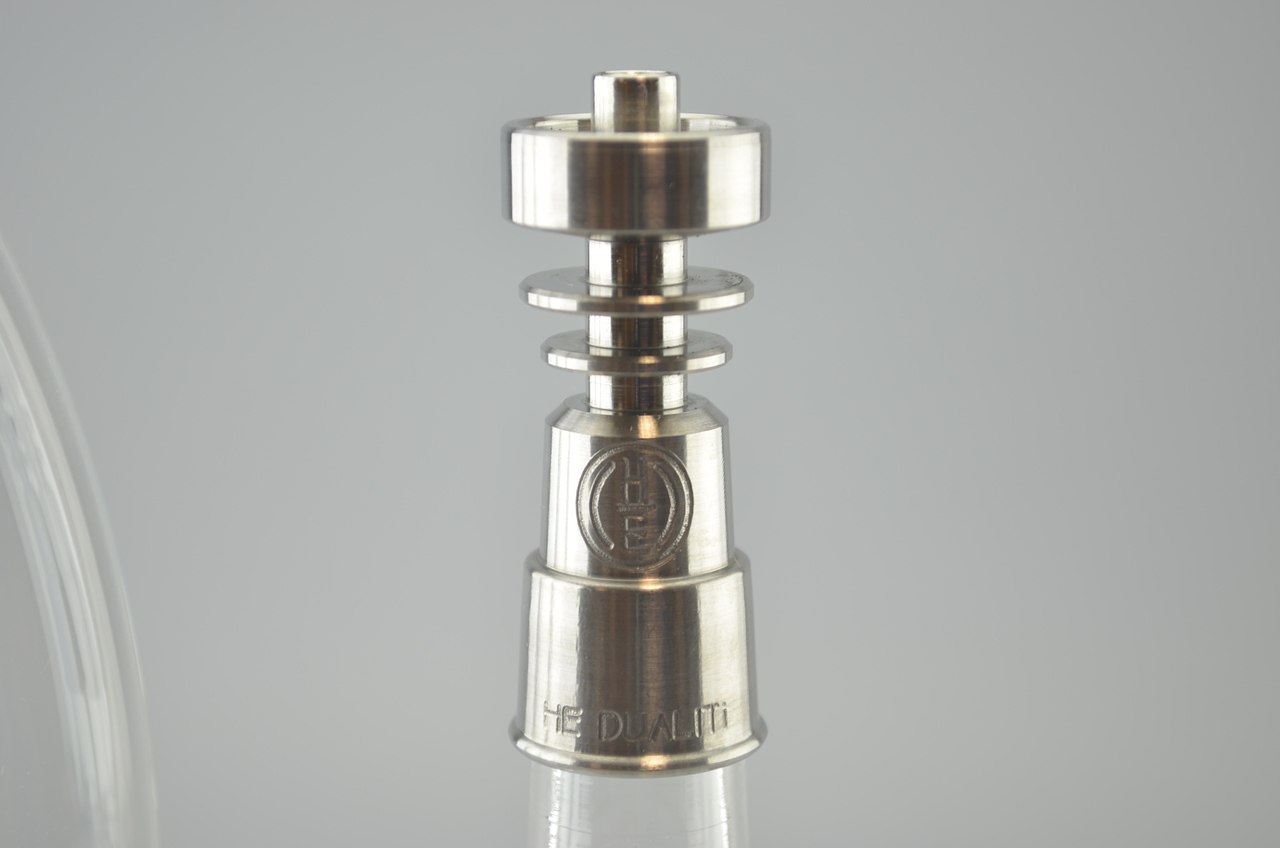 This mind blowing new design took full advantage of the vast numbers of heady high end male jointed dab rigs in the market and truly simplified the dabbing routine by eliminating an entire step and moving part – the dome.
The wide dish design introduced by Highly Educated featured a vapor straw downstem in the center of the dabbing surface that would powerfully draw vapors down and into the dab rig before they could escape into the atmosphere.
The bottom half of most of these domeless titanium nails was tapered enough so that they could function properly with a snug and safe fit on either a 14mm or an 18mm male joint.
The fact that titanium doesn't break like glass, the fact that putting the dome aside saves time and clutter, and the fact that better heat retention and a wider dish lent to fatter and tastier dabs all contributed to titanium being king for so long.
BANG, BANG … THE DEATH OF THE MALE JOINT
During the titanium revolution, ceramic nails made a brief appearance in the dabbing landscape but overall the substance could not keep up with hardcore concentrate lovers.
Over time, an onslaught of cheap, imported, low grade titanium (or worse) dab nails flooded the American market and way too many people fell for it. This led to less-than-desirable dabbing experiences as users would discover layers of built-up carbon deposits on their deteriorated nail head from past unvaped oil and poor manufacturing.
One guy who was several steps ahead of (almost) everyone in the dab game was a super talented glassblower out of Colorado by the name of Joel Halen.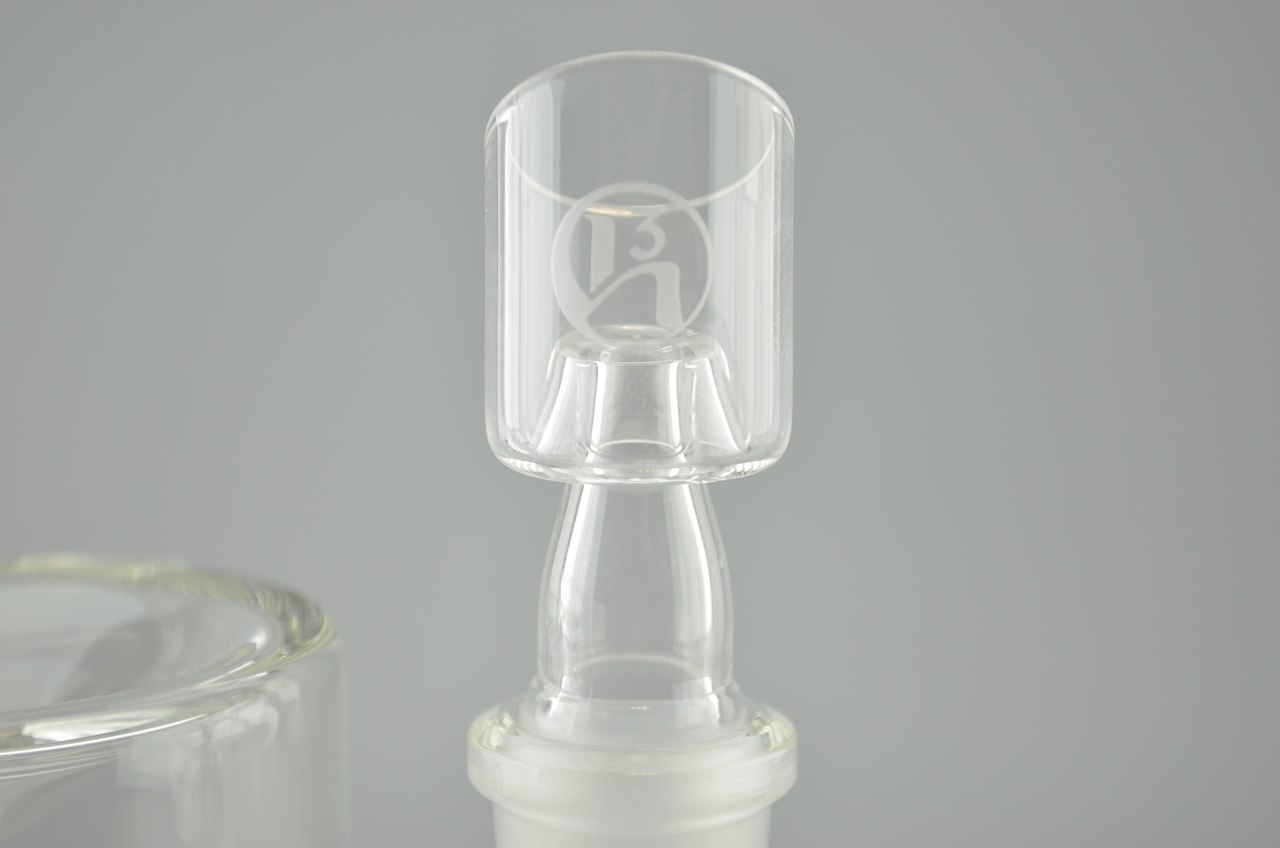 Halen's Honey Holes have been around since people purged their wax on top of their cable box, and Halen continues to push his creative limits to the max with new designs. What set the Halen Honey Hole apart was the fact that it is made out of high quality clear quartz.
Though it may look like regular borosilicate glass to the untrained eye, quartz is a much stronger material, offers far better heat resistance and retention, and it just so happens to deliver far tastier terps than glass or titanium.
The Halen Honey Hole has long been a favorite accessory on shop dab rigs in glassblowing studios and rumor has it that it was in just such a scenario that the next big thing was born.
As the story goes, a Mothership crew member purchased a few H3's directly from Joel the first year he brought them out to the AGE show. Now, quartz is strong, but it's not titanium, and so the tale continues that a Halen Honey Hole in use at the Mothership shop got broken slightly. Soon after, photos of a Frankenstein'd Honey Hole appeared online, but with the top rim sliced down at an angle from back to front.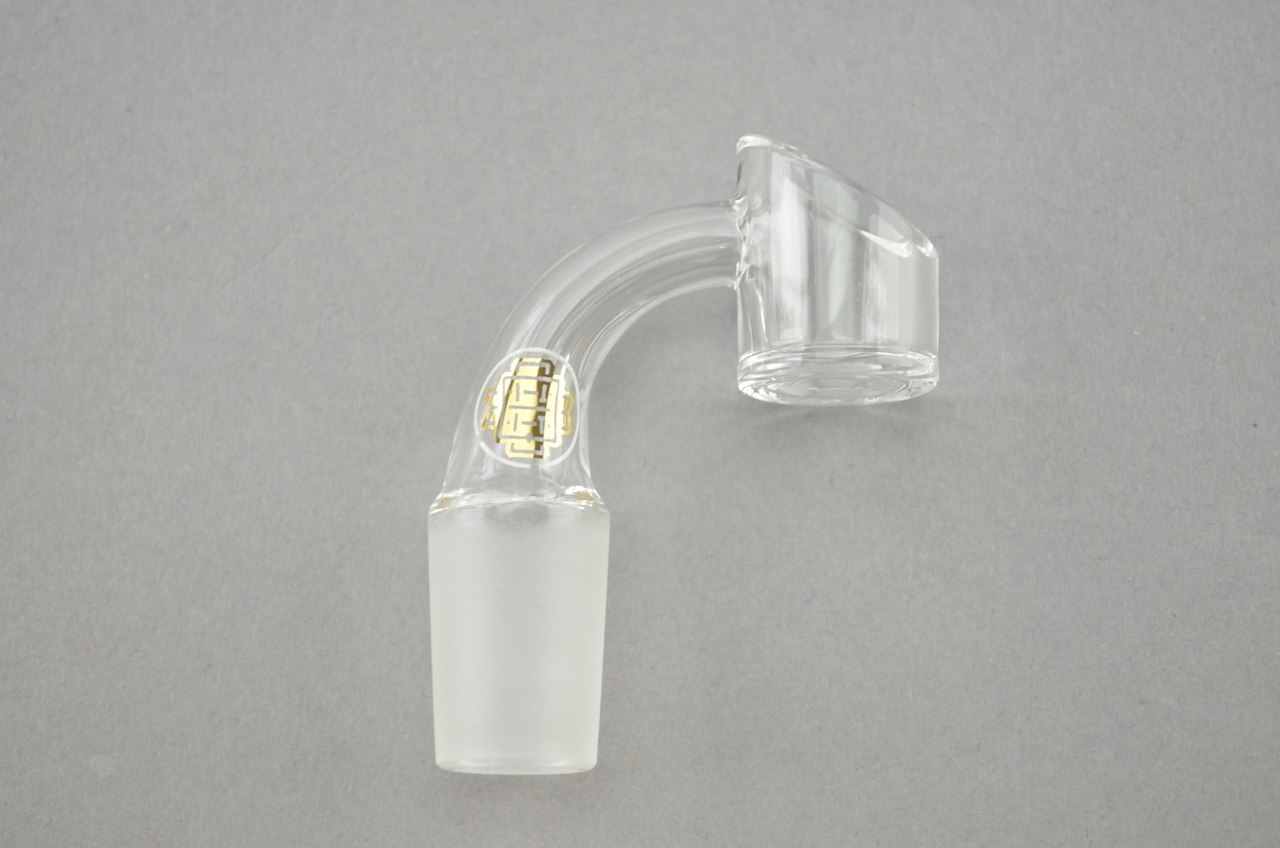 It wasn't long after that when the angle top quartz banger became the must-have accessory for any serious terp hunter.
Is that exactly how it went down? Maybe… maybe not…
But we do know that the crystal clear look and distinct profile of the quartz banger lent well to the aesthetic appeal that heady glass artists were trying to convey and soon the simplicity of the banger was driving the creativity of dab rigs.
Though there always have been, and still are, female jointed quartz bangers, you will easily be able to draw a straight line from the birth of the quartz banger to the inevitable final death of the male joint on a dab rig.
Halen is still at it, though he is quick to point out that he wasn't the first.
He pays homage to another legend in the glass game, Ron over at Pukinbeagle who was creating quartz dabbing devices dating as far back as 2008!
IT AIN'T DEAD YET, BUT IT SURE LOOKS FUNNY…
The fact is, we all got plenty stoned and tasted plenty of flavor off of skillets or domed dabs, and we still can. Some people still prefer these old school methods, whether it be for nostalgic or practical reasons.
At TheDabLab.com, we still have some domes in stock from the glory days, and we still sell one every now and then – believe it or not! Getting a dab rig with a male joint is a great way to save some money! We have a bunch available with heavily marked down prices. We still carry dab nails for male jointed dab rigs too!
But as the entire cannabis concentrate craze goes mainstream, all trends are pointing to simplicity.
Those new to cannabis and concentrates are most often leaning towards vape pens for that very reason so while it may not be totally dead yet, we don't really foresee the male glass-on-glass joint ever making a substantial cultural comeback.